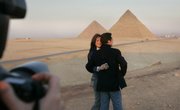 Paris — President Nicolas Sarkozy hinted Tuesday he may soon marry former model Carla Bruni, but polls suggest he's heading toward divorce with some of the voters who put him in power.
Many are irritated by Sarkozy's flaunting of his whirlwind affair with someone whose cast of past partners includes Mick Jagger and Donald Trump. And they question Sarkozy's use of a billionaire friend's private jet for the couple's vacation.
He's being called "President Bling Bling," and it's not a compliment among the taste-conscious French. Meanwhile, there's the sickly French economy to worry about.
Sarkozy appears to be losing his luster as he heads into what promises to be a tough year. On Tuesday, in his first full-fledged news conference since his election in May, Sarkozy deflected criticism of his lifestyle, his courting of hard-line world leaders, and his reforms to France's labor laws, universities and health care.
He basked, though, in confirming his relationship with Bruni.
The 40-year-old Italian-born former model, now a singer, first appeared publicly at the 52-year-old Sarkozy's side at Disneyland Paris last month. Then she joined him on vacation in Egypt and Jordan, where they were photographed arm-in-arm and often smiling.
"You've understood: It is serious," Sarkozy said. He suggested wedding plans are in the works, but stopped short of confirming reports of an early February ceremony.
"There is a strong chance that you will learn about it after it's already done," he said, with a grin.
Asked if they had already tied the knot, he raised his ring-less left hand, to a laughing audience including his full Cabinet and hundreds of reporters.
Sarkozy defended his decision to take the relationship public, saying he wanted to break with a long tradition of French leaders keeping their love lives hidden, with the media's tacit accord. He alluded to the late Francois Mitterrand, who kept the existence of a mistress and illegitimate daughter a secret for most of his 1981-95 presidency.
If Sarkozy-Bruni wedding bells chime, it would mark the first time a French president marries in office. Sarkozy became the first sitting French president to divorce when he split in October from his second wife Cecilia - like Bruni, a tall, dark-haired ex-model.
Not everyone is thrilled. More traditional voters and political commentators question whether Bruni - with her rich romantic history - is the appropriate spouse for a French president.
Some, especially traditional conservatives and working class voters who supported Sarkozy, have issues "with the way the president behaves," said Dominique Moisi of the French Institute of International Relations. It "is not what you'd expect from the president of France."
"The problem is the president mixes his private and his public life," Moisi said. "If it becomes a permanent fixture it becomes embarrassing."
Critics accuse Sarkozy of publicizing his relationship with Bruni - which has been front-page news in France for weeks - to detract attention from declining poll figures and economic woes.
Copyright 2018 The Associated Press. All rights reserved. This material may not be published, broadcast, rewritten or redistributed. We strive to uphold our values for every story published.