Photo Gallery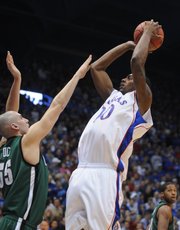 KU vs. Loyola (Md.)
College basketball awards the national championship to the last team standing after a 65-team, single-elimination tournament. College football allows sports writers, coaches and computers to decide which two teams get to play it off for the national title.
Why doesn't college basketball adopt football's system, have a ton of bowl games and have one of them count for the national title? Go ahead and ask that question at work this morning, and with any luck, co-workers will allow you back into the room after they laugh you out of it.
Some ears subconsciously will re-arrange the question to the commonly asked, "Why doesn't football adopt basketball's single-elimination tournament?" That's how Jeremy Case, a good listener, heard the question put to him after Kansas University swatted aside Loyola of Maryland, 90-60, Tuesday night in Allen Fieldhouse.
Other ears will laugh. That's what Sasha Kaun did.
Others will just answer with the obvious, suggesting that it's football that needs to adopt basketball's system, which was how Sherron Collins, a former high school football star in Chicago, responded.
"I think it would be good, but it's so hard on football players' bodies," Case said, hearing the question in transposed fashion. "I don't know if they could play that many games, but I think they're going to come up with a system eventually."
Asked the question again, Case laughed and said, "Oh, no, I don't want any part of that. I like it just the way it is."
Kaun tried not to laugh and said, "No, I think the tournament is the best way to decide because you have to be ready for every game."
How about football adopting basketball's system?
"I think it would be good, but it would be hard because football is one game a week, and it would stretch out for so long," Kaun said.
Collins said: "I think the last team standing should be the national champion. You actually play games to get there. In football, it's like you get voted, one team can lose, and another team can jump up four spots to first. It's confusing. In basketball, you've got to earn it."
Obviously, the notion of basketball switching to football's system for crowning a national champion lacks merit. In turn, football switching to basketball's system is long overdue.
Case raised a valid point, but lower divisions play 16-game elimination tournaments. Eliminate conference championship games, have an eight-team tournament, and let others play in bowl games. Under that scenario, two teams would play 15 games, four 14 games. Not a problem.
Under the current system, Kansas can beat a Virginia Tech team that had been ranked fifth and somehow finish ranked seventh, despite having a one-loss season with the only loss coming on a neutral field to Missouri, which emerged from that game ranked No. 1 in the nation and cleaned up in its bowl game.
USC lost to Stanford, West Virginia to Pittsburgh. Ohio State's best victory came against Michigan. All three teams lost two games. Kansas lost one. All three teams are ranked ahead of Kansas.
"That just shows how confusing it is to me and how confusing it should be to anybody," Collins said after scoring 18 points.
Collins made more than baskets Tuesday night. He made sense.
Copyright 2018 The Lawrence Journal-World. All rights reserved. This material may not be published, broadcast, rewritten or redistributed. We strive to uphold our values for every story published.