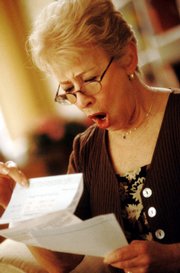 Dealing with a company rep about a problem with a product or service can make consumers feel as if they are running up a hamster wheel. But figuring out where to go to next can be a frustrating experience. Dozens of local, state and federal agencies join watchdog groups, private regulators, trade associations and other sources of help carrying overlapping jurisdictions.
Now comes some help: The editors of Consumer Reports Money Adviser have compiled practical advice on how to complain effectively. Here are some tips for consumers to help get some satisfaction:
¢ Speak to the boss. Before taking complaints to outside organizations, people should do everything possible to resolve their problem within the company, which is where they are most likely to get satisfaction. People should ask to speak to a supervisor, and if they don't get help there, they should go straight to the top. At small firms, it's sometimes possible to speak to the top dog in person. At large companies, customers probably will have to write or send an e-mail to the CEO.
¢ Try business groups. Many business-supported organizations may be able to help, including the Better Business Bureau (www.abanet.org). With its dispute-resolution services and complaint-driven business reports, the bureau carries a lot of clout, even with companies that are not members.
Many industry associations, such as the American Moving and Storage Association and the National Funeral Directors Association, provide dispute-resolution services as well. Some of the groups will arbitrate or attempt to resolve issues only with their members.
¢ File multiple complaints. File several complaints with several organizations to avoid waiting in vain if one group can't or won't help. Do a Web search to find the right group or agency. At a minimum, it usually is a good idea to file a complaint with your state attorney general. The Douglas County District Attorney's Office has a consumer fraud hot line at (785) 330-2849, and more information is available from the office link at www.douglas-county.com.
¢ Call in the feds. Also look for the appropriate federal agency. The Federal Trade Commission usually is the lead agency for consumer issues. But like the states, the federal government has agencies that specialize in certain areas. The U.S. Consumer Product Safety Commission investigates complaints about many types of unsafe products. Visit www.pueblo.gsa.gov/ complaintresources.htm for a list of federal agency jurisdictions by topic.
¢ Take it to court. For small problems, there's little point in hiring an attorney. Even if one were willing to take the case, the legal fees could easily amount to more than the court's award. That's why there are state small-claims courts, which normally handle cases involving $1,500 to $25,000. The court Web sites usually have instructions on how to file a case. Sometimes simply sending a company a "letter of demand" threatening a lawsuit will motivate the firm to resolve the issue.
For major issues, consumers can find a lawyer by going to the American Bar Association at www.abanet.org.
Copyright 2018 The Lawrence Journal-World. All rights reserved. This material may not be published, broadcast, rewritten or redistributed. We strive to uphold our values for every story published.