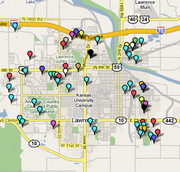 Lawrence-and the state of Kansas-has weathered the mortgage crisis better than most. One way to gauge the foreclosure storm is to look at sheriff's sales, which occur when homeonwers stop paying their mortgage and the house is auctioned off to the highest bidder.
Lt. Steve Brown stood on the landing of the Douglas County Law Enforcement Center last week and started the sheriff's sale at 10 a.m. sharp - just as he had for almost every Thursday the year before.
Wearing jeans and work coats, prospective buyers of the foreclosed properties leaned against a wall and listened as Brown auctioned off two houses in under five minutes. Bank representatives in wool coats and gloves stood in front of Brown.
The sales - the first of the year for Douglas County - will be swept up and counted in the growing number of foreclosures in the United States. As in 2007, 2008 isn't expected to bring any relief to the mortgage crisis.
In the words of local bankruptcy and real estate attorney Jonathan Becker, the mortgage crisis has just gone into halftime.
"Right now, we are at the halfway point for bad loans that were made. We're halfway through the cycle," Becker said.
That's because a bulk of adjustable rate mortgages - those home loans that offer attractive interest rates for the first few years of the loan and then bump the rate up for the rest of the loan's life - are scheduled to reset in the next year. That means homeowners with those loans could see a huge jump - some as much as 50 percent - in their monthly mortgage payments.
Kevin Glendening monitors the foreclosure rates throughout the state. He is the deputy commissioner for the consumer and mortgage lending division with the Kansas Office of the State Banking Commissioner.
Glendening predicted that foreclosures will climb slightly higher - particularly this summer - before they go down. But he doesn't foresee a huge spike in the numbers.
"If you stop and think about it, a lot of this already happened. The foreclosures coming on the system now represent a loan in default some time ago," Glendening said.
Sheltered from the storm
Glendening stresses that Kansas is far better off than states in the Southwest, Southeast and in the Rust Belt area of the Northeast.
As of October, there had been 6,818 foreclosure filings in Kansas in 2007, according to RealtyTrac. In comparison, one of the hardest-hit states, California, had almost 357,000 foreclosure filings for the same time period.
Foreclosures in Kansas have been buffered by two forces: while other states had home prices skyrocket, Kansas had fairly steady appreciation in the real estate market.
Second, the state has some of the most comprehensive regulations for mortgage companies, such as keeping a list of approved mortgage brokers and lenders and conducting routine examines on companies.
Lawrence hasn't felt the housing hurt as much as other cities, such as Topeka.
Becker said some of that has to do with the even-keeled presence of Kansas University and - again - housing prices that didn't soar as much as those in Johnson County.
Records from the Douglas County Sheriff's Office show that 88 properties were sold at sheriff's sales in 2007. That's just three more than in 2006.
A sheriff's sale is the final step in the foreclosure process. It occurs when the homeowner stops making mortgage payments. In most cases, the bank buys the house back for the amount left on the loan. However, in some instances, developers or real estate agents looking for a sweet deal will purchase the home.
Foreclosures in Lawrence
Sheriff's sales aren't the only way to gauge how many homeowners are struggling with their mortgages. It's a trend that is tough to calculate because once a homeowner defaults on the loan, the process is complicated and can have many outcomes. For example, the owners can sell the house back to the mortgage company before a sheriff's sale, file for bankruptcy or, if they're lucky, they can work out a new loan and repayment schedule with the mortgage company.
While sheriff's sales haven't taken a big jump, bankruptcies have.
Compared with the first half of 2007, the number of personal bankruptcy cases filed by Douglas County residents increased by almost 30 percent. Since July, 112 cases have been filed.
While not every bankruptcy stems from mortgage problems, a good many do, Becker said.
At Housing and Credit Counseling Inc., appointments are up from those hoping to stave off foreclosure.
Jackie Blaesi-Freed, a counselor, rattles off the many scenarios of homeowners on the brink of foreclosure.
"We are seeing more people who have more financial difficulties," Blaesi-Freed. "They are also behind on credit card bills, car payments, they have things in collections. The don't just have mortgage issues."
Others have gotten caught in questionable lending practices. For example, an elderly lady was convinced to sign up for an adjustable rate mortgage that had been reset to an higher interest rate, exceeding what she can pay on a fixed income.
Other homeowners nearing foreclosure have been approached by lenders who want to buy the house and rent it back to them. Oftentimes these offers result in the company increasing the rent and forcing the former homeowner out.
Becker said he has seen loan applications where the lender falsified financial statements so the homeowner could qualify for more money and a pricier home.
Robert Baker, another counselor at HCCI, said he has heard of tenants thrown into situations where foreclosure notices end up on their doorsteps and the landlords can't be reached. Eviction is pending, they just don't know when.
Compared with 2006, the bank commissioner's office has seen a 36 percent increase in consumer-related complaints stemming from mortgage issues. Kansans filed 287 of them last year.
As for help on the way, Glendening said his office is contemplating a number of measures for this year's legislative session. He wouldn't comment on what those measures would be.
Already, many of the subprime loans have disappeared from the market, Becker said.
Both Becker and Blaesi-Freed question the good that President Bush's mortgage bailout plan will do. The proposal would have banks freeze the teaser rates on adjustable rate mortgages. But, there are restrictions on who can qualify.
Becker said it's the equivalent of a $30 fix for an $1,100 problem.
The number of foreclosures could have lingering effects for years to come, Blaesi-Freed said. She points to a potential drop in property tax revenue, vacant houses in neighborhoods leading to more crime, and homeowners strapped with unattractive credit scores.
"We'll get past the foreclosures, but we won't get past the crisis in two or three years," Blaesi-Freed said. "It could be a decade recovering."
Copyright 2018 The Lawrence Journal-World. All rights reserved. This material may not be published, broadcast, rewritten or redistributed. We strive to uphold our values for every story published.