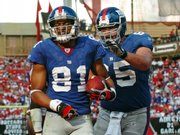 Tampa, Fla. — First stop, Tampa. Next stop, Texas.
As long as it's on the road, the New York Giants can't complain.
The Giants moved to 8-1 away from home with a dominating 24-14 NFC-wild-card playoff victory over the Buccaneers on Sunday. New York has won every away game since falling in its season opener against the Dallas Cowboys, and it gets a chance to diminish that blemish in a much bigger matchup next Sunday, with the winner going to the conference title game.
"We love playing there, we love going down to Dallas," Eli Manning said. "There are no secrets."
As for concerns the Giants (11-6) left too much of themselves on the field in futilely trying to stop New England's perfect season on Dec. 29, well, forget it. After a lackluster first quarter, New York bullied the NFC South champions, who lost three of their last four regular-season games, including the final two when coach Jon Gruden rested many starters.
"We weren't sluggish, but it was not like we were the week before," said Giants veteran receiver Amani Toomer, who had a big game. "We needed one play to get us going and for me to be the guy, I was excited."
He was the guy often, making seven receptions for 74 yards and a touchdown.
It was the first postseason win after two defeats for Manning, who efficiently outplayed his counterpart, Jeff Garcia. Manning went 20-of-27 for 185 yards.
The oft-criticized Manning should draw nothing but praise for his performance, which included touchdown passes to Brandon Jacobs and Toomer.
"Eli had a great game today," Toomer said. "He took what was out there and didn't force anything. He doesn't get real excited; there is more than one way to lead a team ... and he showed that today."
Copyright 2018 The Associated Press. All rights reserved. This material may not be published, broadcast, rewritten or redistributed. We strive to uphold our values for every story published.