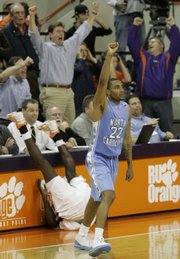 Clemson, S.C. — No. 1 North Carolina passed its first true test - barely.
Wayne Ellington's three-pointer with 0.4 seconds left in overtime lifted the top-ranked Tar Heels to a 90-88 victory over 19th-ranked Clemson on Sunday night.
After weeks of routing nonconference competition - they had won their previous four games by an average of 33 points, North Carolina (15-0) found itself locked in a classic to start the Atlantic Coast Conference season and came out on top.
"It shows our maturity, it shows we can stick it out and get the win when we have to," Ellington said.
Ellington was the main reason that the Tar Heels managed to do that as he scored a career-high 36 points.
None were bigger than his final three-pointer from the left side of the key after taking a pass from Ty Lawson on North Carolina's final possession.
Right from the moment it rolled off Ellington's fingertips, he knew the Tar Heels would head home happy and with the No. 1 ranking intact.
"It felt really good," Ellington said. Defender James Mays was "flying at me and I knew if it had chance to get there it was going to go in," Ellington said.
The Tar Heels leaped from the bench as Ellington pumped his fist in celebration.
Only moments earlier, Clemson freshman Demontez Stitt had hit two foul shots with 13.9 seconds to go that put the Tigers ahead, 88-87.
Instead, Ellington's basket sent the Tar Heels out of Littlejohn Coliseum with their seventh straight win over Clemson.
Ellington scored seven of North Carolina's nine points in overtime. He surpassed his career high of 23 set earlier this season in a win over Ohio State.
Tiger coach Oliver Purnell was pleased with Clemson's defense on All-American Tyler Hansbrough, held to just 12 points, 10 fewer than his average. Hansbrough did lead North Carolina with 14 rebounds.
"If you told me we're going to do that job on Hansbrough, I'd feel pretty good," Purnell said.
Instead, it was Ellington who continually did in the Tigers.
"I didn't think he'd get 36," Purnell said. "Thirty-three would've been fine."
K.C. Rivers led Clemson (12-2) with 24 points, but failed to score in overtime. Trevor Booker added 14 points and 11 rebounds.
Ty Lawson had 16 points. He jumped around with teammates after Ellington's basket.
"It felt joy to get a win, to get up and get out of here," Lawson said.
No. 9 Duke 81, Cornell 67
Durham, N.C. - DeMarcus Nelson matched a season high with 23 points, and Duke shook off a slow start to beat Cornell. Kyle Singler added 14 points for the Blue Devils (11-1), who were coming off a 16-day layoff and eventually pulled away for their NCAA-best 58th straight nonconference victory at home.
Gerald Henderson scored 12 points, and Greg Paulus added 11 for Duke, which only briefly trailed late in the first half and took command early in the second with a 13-3 run. The victory gave coach Mike Krzyzewski his 786th career victory, tying Lefty Driesell for sixth on the all-time wins list.
West Virginia 79, No. 10 Marquette 64
Morgantown, W.Va. - Alex Ruoff hit five three-pointers and scored 19 points to lead the Mountaineers to a rout of Marquette, giving coach Bob Huggins his 601st career win. Joe Alexander added 19 points and Da'Sean Butler hit three threes and had 13 points for West Virginia, which cruised to a 10-1 start before dropping a pair of games to Oklahoma and Notre Dame.
The Mountaineers (11-3, 1-1 Big East), employing a seldom-used 1-3-1 zone defense most of the game, surprised Marquette and coach Tom Crean, who appeared to expect Huggins' trademark, man-to-man defense.
No. 17 Villanova 64, No. 13 Pittsburgh 63
Villanova, Pa. - Dante Cunningham made two free throws with 10 seconds left. and Villanova then forced another turnover to secure a victory over Pittsburgh. Freshman Malcolm Grant had a season-high 22 points for the Wildcats (11-2, 1-1 Big East).
The Panthers (12-2, 0-1) matched their season high with 22 turnovers, nine over their season average.
Copyright 2018 The Associated Press. All rights reserved. This material may not be published, broadcast, rewritten or redistributed. We strive to uphold our values for every story published.