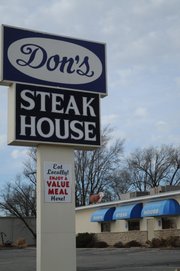 Don's Steak House, a grilling institution since 1962 at the southeastern edge of Lawrence, is giving way to a new barbecue restaurant.
Gary Bartz, who has owned the place since buying out founder Don Scott in 1990, has closed the restaurant and sold off its equipment and fixtures to a group headed by a businessman from Wichita. The group intends to remodel and reopen the place as a barbecue joint.
Bartz, meanwhile, plans to rest, recuperate and remember the good times.
"I miss all my customers," said Bartz, still recovering after heart surgery two years ago. "That's the hard part. But not the business part. We have a slow economy here in Lawrence. It's been no growth here for a while. Now I'm just looking to the future."
Bartz has leased his 8,000-square-foot building and adjacent parking lot to a group headed by John Carnes, a Kansas University graduate who runs Rock Chalk Royalties Ltd., an independent oil operation based in Wichita.
Carnes, who has a son attending KU, is working with several other KU alumni to give the old Don's place new life. Included in the ownership group are Steve Comeau, a fellow Wichita resident who is a fraternity brother of Carnes', and John Bush, a friend who recently sold his ownership share of Lawrence Realty Associates to McGrew Real Estate.
Bush, a longtime fan of Kansas City barbecue, helped get the idea going after accepting his friend's challenge to try some of the meats smoked in the style of Carnes' beloved central Texas.
Bush, soon convinced that he'd never tasted anything better, suggested opening a place in Lawrence. They signed the lease for the Don's space Dec. 29.
"It'll be a joint," Bush said. "We're not looking for a fancy restaurant. It will be a lot closer to an Arthur Bryant's experience than it will be to a KC Masterpiece experience."
Comeau said that the new place would provide a "down home, old-world style" decor with a focus on the joint's main attraction: smoked meats.
The group has a goal of opening by mid-March, while adding a new commercial smoker but making few cosmetic changes. A few interior walls will be removed, Comeau said, but the Don's tables and chairs will remain.
Even the fiberglass Hereford bull on the roof will stay, welcoming diners and eyeballing hundreds of passersby from its bolted perch facing East 23rd Street.
"We're going to use certified Angus, so we'll have to paint him black," Comeau said. "Why would we dare take him down?"
Comeau said that the restaurant likely would have about 20 employees, and hiring likely would begin in late February.
All while Don's - which typically had about two dozen employees and a larger legion of steadfastly devoted fans - is added to the list of recent culinary icons to close recently in Lawrence: Joe's Bakery, Bucky's Drive In and now Don's Steak House.
"We were pretty busy, but the problem is business has slowed down in the past couple of years," said Bartz, now 60. "This $3 gas really hurt."
Copyright 2018 The Lawrence Journal-World. All rights reserved. This material may not be published, broadcast, rewritten or redistributed. We strive to uphold our values for every story published.