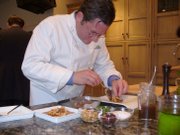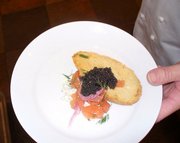 Chicago — What celebrity chef worth his lamb chops with pomegranate glaze would risk culinary shame by creating airline food - the butt of innumerable jokes about reheated hash that always seems to taste like chicken or even a salty tire?
Ask Charlie Trotter, a world-renowned chef who owns a five-star restaurant here and has written more than a dozen cookbooks. Trotter recently joined forces with United Airlines, a carrier that had been under bankruptcy protection and is known more these days for cost cutting than exquisite cuisine.
While preparing a potential en-route appetizer of shredded pork complemented by wild rice and Michigan sour cherries, Trotter admitted that some people don't understand the marriage of a culinary artist and cost-conscious airline. He is part of a trend sweeping the U.S. airline industry: major carriers upgrading their premium offerings - especially their menus, with the aid of celebrity chefs. Delta Air Lines in recent years began offering food created by Todd English and Michelle Bernstein. Two other U.S. carriers, Continental Airlines and American Airlines, have also been busy overhauling their offerings with the help of celebrity chefs.
Economic revival
Airlines have a long history of using celebrity chefs to help them create meals for first- and business-class passengers. But most U.S. carriers trimmed or eliminated such programs during the economic turbulence that followed the 2001 terrorist attacks. American, for example, pared its 16-member chef conclave to six and then three.
The recent moves are a sign of the airline industry's economic revival and increasing focus on overseas expansion. Most of the food created by the celebrity chefs is being served on long-haul or international flights. For those in coach who have grown accustomed to bags of pretzels, don't start dreaming about seafood bisque with lump crabmeat. Carriers are mostly offering such delicacies to passengers willing to pay thousands of dollars for first- or business-class tickets. They are also battling international carriers known for their cuisine.
"If you have the chutzpah to charge a customer $8,000 to sit in business class or $10,000 or more than that to sit in first, you better serve a good product," said Henry Harteveldt, vice president of travel industry research at Forrester Research in San Francisco. "The food can't be lousy."
Battle of egos
Chefs, known for their egos and bravado, are being thrown into the heart of the airlines' grudge-match battle for passengers with thick wallets. And they are not shy about their abilities to keep customers coming back.
United's on-staff corporate executive chef, Gerry Gulli, noted that American had recently hired Hawaiian chef Sam Choy to help devise its menus for planes heading to and from the island chain. Choy had worked for United several years ago.
"All the recipes we didn't want, American is using," Gulli said with a smirk during an interview at United's headquarters here.
Choy laughed upon hearing Gulli's dig. "They are using all the stuff I taught them years ago," he said.
"I know my airline food is the best, and that's not just ego, either," added Choy, who has helped create such entrees as grilled salmon topped with creamy wasabi and served with shiitake-butter orzo.
On a recent afternoon, Trotter was working on potential appetizers for United in his test kitchen. With airline executives and staff looking on, Trotter demonstrated how easily a flight attendant could throw together a smoked salmon delicacy at 30,000 feet. He put some creme fraiche on a plate, then added citrus-cured salmon, capers and red onions. He topped it with a toast point and then a dollop of caviar.
"It's just a couple of steps - boom, boom, boom," said Trotter, who rejoined United this spring after having worked for the carrier before it slid into economic trouble in 2001. "It's simple."
Back of the plane
English was hired last summer to help Delta create a food-for-sale program - in coach, of all places, he said. Among his dishes: A $9 grilled Mediterranean shrimp salad.
"The back of the plane is where the real challenge is," said English, adding that he plans to help Delta devise business-class meals in the future.
Trotter, English and others noted that customers should not expect restaurant-caliber food in the air. Chefs face huge limitations on their ingredients, creativity and recipes, they said.
Meals must fit specific sizes, be easy to assemble and be tough enough to survive cooking, chilling and reheating in-flight. The food must be simple to prepare in airplane cabins. Most of the work is out of the chefs' control and in the hands of caterers spread across the globe. Budgets can be tight.
The chefs noted that two reality cooking shows, "Top Chef" and "The Next Iron Chef," have forced contestants to confront the difficult task of creating airline dishes.
"I am not as proud of my airline food as my restaurant food," said Stephan Pyles, a chef for American and owner of Stephan Pyles restaurant in Dallas. "I have no control about what happens on the airplane."
Copyright 2018 The Lawrence Journal-World. All rights reserved. This material may not be published, broadcast, rewritten or redistributed. We strive to uphold our values for every story published.