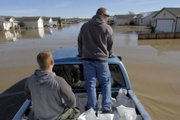 Fernley, Nev. — A ruptured levee sent a frigid "wall of water" from a rain-swollen canal into this high desert town early Saturday, flooding hundreds of homes and forcing the rescue of dozens of people by helicopter and boat.
To the west, a dangerous layer of heavy snow covered the Northern California mountains as rain and wind from the third storm in as many days hit the West Coast. The storms have been blamed for at least three deaths, and hundreds of thousands of homes and businesses in California, Oregon and Washington were without power Saturday.
No injuries were reported in the flood in Fernley, about 30 miles east of Reno, after a section of the Truckee Canal up to 150 feet long broke about 4 a.m.
As many as 3,500 people were temporarily stranded and an estimated 1,500 ended up being displaced.
As much as 9 feet of snow was possible in the Sierra by today.
An 80-mile stretch of U.S. Interstate 80 from Reno to Applegate, Calif., was closed Saturday night as the fresh wave of snow moved in.
The weather also was blamed for a 17-car pileup that closed the westbound lanes of I-80 near Patrick just east of the Reno-Sparks area Saturday.
Copyright 2017 The Associated Press. All rights reserved. This material may not be published, broadcast, rewritten or redistributed. We strive to uphold our values for every story published.