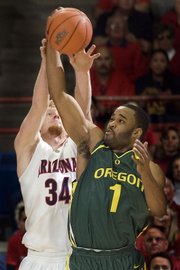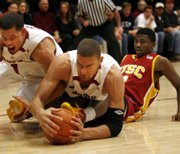 TUCSON, ARIZ. — Oregon played like the Pac-10 contender it is supposed to be.
"Finally," coach Ernie Kent said.
Malik Hairston tied his career high with 29 points, and the Ducks shot 56 percent from the field Saturday to beat Arizona at McKale Center for the second year in a row, 84-74.
Oregon (10-4, 1-1) led by as many as 19 in the first half, and the No. 21 Wildcats (10-4, 1-1) never got closer than five in the second.
It was a stark contrast from Oregon's sluggish, turnover-marred 62-54 loss at Arizona State on Thursday night.
"Hopefully, this is the win that can kick-start us into playing how we are accustomed to playing," Kent said. "We looked like the Oregon of old today."
Chase Budinger scored 30 points, two shy of his career best, for the Wildcats, who were without leading scorer and point guard Jerryd Bayless for the third straight game because of a sprained right knee.
"Let's face it," interim coach Kevin O'Neill said. "Without Jerryd, we're not as good of a team."
The Ducks have four starters back from a 29-8 team that won the Pac-10 tournament, but they had lost three of their last four games - at Nebraska, Oakland of Michigan and Arizona State.
"It is huge," Hairston said of the win. "It was just as sweet as the first one last year. We basically want to take off from this."
Hairston was 11-for-17 from the field, 3-of-5 from three-point range. Overall, Oregon was 10-of-21 on threes, compared to Arizona's 5-of-21.
"Our defense was kind of slack," Arizona's Jordan Hill said. "They have good three-point shooters, and they shot the lights out."
Bryce Taylor scored 15 and freshman Kamyron Brown 13 for Oregon. Maarty Leunen added 13 points and 11 rebounds.
"We did not run a lot of set plays," Kent said. "We just basically played a lot of the same stuff that the (Phoenix) Suns do, ran the floor and attacked you. We played loose, and we played free and let the game come to us. I thought we played tremendous."
Nic Wise, starting in place of Bayless, scored 16 for Arizona. Hill, on the bench in foul trouble most of the first half, added 12 points, 10 in the second half.
No. 2 Memphis 90, Pepperdine 53
Memphis, Tenn. - Doneal Mack made seven three-pointers and scored a career-high 23 points, leading Memphis to its school-record 40th straight home victory.
Five players scored in double figures for Memphis (13-0), which has not dropped a home game since losing to Texas on Jan. 2, 2006. Chris Douglas-Roberts added 14 points, and Antonio Anderson and Willie Kemp finished with 12 each. Robert Dozier had 11.
No. 4 Washington State 56, Washington 52
Seattle - Aron Baynes scored 16 points, Kyle Weaver scored 11 of his 13 in the second half, andWashington State eked out its sixth straight victory over the Huskies in the Pac-10 opener for both teams.
It's the Cougars longest win streak over their rival since winning six straight in 1941-42.
No. 5 UCLA 70, California 58
Berkeley, Calif. - Freshman center Kevin Love had 19 points and 14 rebounds for his seventh double-double, and UCLA completed a sweep of the Bay Area schools on the opening weekend of Pac-10 play.
Russell Westbrook added 11 points and seven rebounds, and Darren Collison had 14 points and five assists for the Bruins (14-1, 2-0), who won their seventh straight. The streak includes a victory at No. 24 Stanford on Thursday night.
No. 6 Michigan State 65, Minnesota 59
East Lansing, Mich. - Raymar Morgan scored a career-high 31 points and grabbed 10 rebounds to lift Michigan State over Minnesota in the Big Ten opener for both teams.
Morgan, the league's third-leading scorer, was 11-for-17 from the field in his fifth game with at least 20 points. He has three double-doubles.
Freshman Kalin Lucas came off the bench to boost the Spartans (13-1) with 17 points.
No. 7 Georgetown 58, Rutgers 46
Piscataway, N.J. - Freshman Austin Freeman scored 13 points, and Georgetown, which entered the game leading the country in points allowed and field-goal-percentage defense, improved on both numbers.
The Hoyas (11-1, 1-0) opened defense of their Big East championship by holding the Scarlet Knights nine points below their Division I-leading figure and to 31.1 percent shooting (19-for-61) from the field to improve on their 35.2 percent allowed.
It was Georgetown's sixth straight victory over Rutgers.
No. 15 Vanderbilt 97, Massachusetts 88
Nashville, Tenn. - Shan Foster scored 32 points, A.J. Ogilvy added 25, and unbeaten Vanderbilt rallied past Massachusetts to extend the best start in school history.
The Commodores (15-0) trailed by 14 points in the first half and nine in the second before charging back on the strength of their three-point shooting. Vanderbilt was 13-of-23 from beyond the arc while the Minutemen were 6-of-20.
No. 16 Butler 73, Valparaiso 65
Indianapolis - Mike Green matched his career high with 24 points and added eight rebounds to help Butler.
The Bulldogs (13-1, 2-1) won their fifth straight overall and matched the best start in school history.
Valparaiso has lost three of its last four, all on the road - at Wisconsin, at North Carolina and at Butler.
No. 24 Stanford 52, No. 22 USC 46
Stanford, Calif. - Fred Washington helped shut down heralded Southern California freshman O.J. Mayo, and Stanford overcame a horrid shooting night.
The Cardinal (12-2, 1-1) avoided losing consecutive home games to open the conference season despite shooting a season-low 27 percent and committing 19 turnovers.
Mayo, who averaged 20.6 points in his first 13 games, finished with 14 on 5-for-19 shooting for USC (9-5, 0-2).
No. 25 Wisconsin 64, Iowa 51
Madison, Wis. - Brian Butch scored 22 points, and Wisconsin continued its home dominance in the Big Ten with a victory over Iowa.
The Badgers (12-2, 2-0) won their sixth straight game despite a tepid early shooting performance other than Butch, who finished 7-of-12.
Copyright 2018 The Associated Press. All rights reserved. This material may not be published, broadcast, rewritten or redistributed. We strive to uphold our values for every story published.