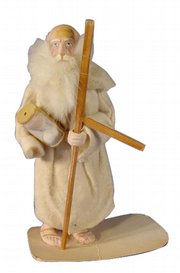 Current prices
Current prices are recorded from antiques shows, flea markets, sales and auctions throughout the United States. Prices vary in different locations because of local economic conditions.
¢ Rookwood pitcher, bulbous with extended neck, flowering aquatic plants, russet, yellow and green on dark-brown ground, 7 1/2 inches, $235.
¢ Donald Duck coffee tin, key wind, yellow ground, Donald on front, Goyer Coffee Co., Greenville, Miss., 3 1/2-by-5 inches, $260.
¢ Kathe Kruse doll, Hannerle, IX, blond hair, blue and white dotted dress and headband, box, 14 1/2 inches, $300.
¢ Carnival glass plate, Fishscales and Beads pattern, white, 6 inches, $335.
¢ Pennsylvania Chippendale cradle, walnut, dovetailed case, pierced handles, scrolled footboard, c. 1830, 28-by-44 inches, $410.
¢ Mason's Patent Nov. 30th 1838 glass fruit jar, reverse embossed N.C.L., deep amber, quart, 7 1/2 inches, $1,035.
¢ Red patent leather Chanel handbag, quilted exterior, gold-tone hardware, interlocking C fabric interior, tag and box, $2,240.
¢ Sterling-silver punchbowl, lobed, applied border of pierced scrolls and sunflowers, foot and rim, c. 1896, Dominick & Haff, 6-by-9 inches, $2,900.
¢ U-238 Atomic Energy Laboratory game, 1950, A.C. Gilbert, 19 pounds, unused, $3,735.
¢ Silk needlework picture, Emblem of America, floral border, figure of Liberty holding an American flag with eagle and staff top, 1840s, 14-by-10 inches, $3,055.
The New Year is here, and Father Time has disappeared along with 2007. Baby New Year, dapper in diaper, sash and top hat, is growing older each day. Ever wonder how these symbols developed? A baby was used to represent the new year as early as 600 B.C. in Greece. Through the years, the baby, always a male, was given a contemporary wardrobe. Father Time also dates back to ancient Greece and Rome. He originally was Saturn, a deity of time with a sickle used to cut down crops. He gradually came to represent the old year and the sickle was thought to destroy the old days. There are pictures from the 19th century that show Father Time holding Baby New Year. Collectors can find many items that picture the symbols of both the old and new years. Candy containers, clocks, postcards, greeting cards, small figurines and even fabrics picture the two. Today, many New Year's pieces show traditional symbols and the numerals for the year. Drinking glasses, party favors, napkins, dishes, silk scarves, jewelry and many other small items are made each year. They are quickly discarded because they're dated. Although New Year's memorabilia is not collected by many, it is a growing area. Christmas, Easter, Halloween and the Fourth of July are already important holidays for collectors, and books have been written about the collectibles. New Year's is one of the few holidays left to be discovered by lots of collectors, so save your party favors and special clothes. Some will be valuable.
Q: My vase has a mark in the shape of the state of Kentucky with the words "Genuine Bybee" inside. Could you tell me more about the mark?
Pieces made by the Bybee Pottery in Middletown, Ky., since 1945 that are marked with the state outline were made to be sold at shops in the state parks.
Q: My son recently purchased an old dining-room table and was interested in its value. It has decorative legs and a hidden leaf and is labeled "Ebert Furniture Co., Red Lion."
A: Ebert Furniture Co. was in business from 1854 until 1959. Cabinetmakers Johann Georg Ebert and his brother, Johann Adam, immigrated to Philadelphia from Germany in 1852. They founded the American Furniture Co. in 1854 and the John A. Ebert Furniture Factory in 1857. They made cabinets, dining sets and bedroom sets. After the two brothers died, John Adam Ebert's sons ran the company. In 1917 the factory moved to Red Lion, Pa. The factory was sold to Bethlehem Furniture in December 1958. Since your son's dining table has Red Lion on the label, it was made after 1916. A table that seats eight is worth about $350.
Q: I have an orange Franciscan El Patio ball-shaped water jug that has an "F" mark. Can you suggest an age and value?
A: The El Patio line of Franciscan dinnerware was introduced in early 1934. It remained in production for 19 years. In 1939, El Patio was made in the satin or matte colors named Redwood, Mexican Blue, Golden Glow, Flame Orange, Apple Green, Deep Yellow, Light Yellow and Gloss White. The "F in a box" backstamp on your pitcher was used for only nine months, in 1938 and 1939. El Patio ball-shaped water jugs sell for $50 to $80.
Q: My great-grandparents lived in a house that had been a funeral home. There was a wrought-iron fence more than 100 years old in front of the house. My parents recently gave me this heavy old fence and I had it sandblasted, primed and painted. Then I placed a portion of it in my front yard. The centerpiece on the entry gate reads, "The Stewart Iron Works, Cincinnati, Ohio." Can you give me more information about it?
A : The Stewart Iron Works was founded by brothers Richard C. and Wallace A. Stewart in 1886 and is still in business. The company had plants in Cincinnati, Wichita and Covington, Ky. The Wichita plant burned down in the late 1800s. The Cincinnati plant, located on the canal that led to the Ohio River, closed in 1914 after the canal closed. Stewart Iron Works fences were shipped worldwide and were sold in Sears and Roebuck catalogs for several years. At one time, the company advertised itself as "The World's Greatest Iron Fence Works." It also made wrought-iron furniture, cemetery plot enclosures, trucks for the U.S. Army during World War I, jail cells for Alcatraz, Leavenworth, Sing Sing and other prisons during the 1930s, and landing equipment for the U.S. Air Force during World War II. Today Stewart Iron Works makes fences in new and custom designs as well as in original old patterns and molds. It also repairs old iron fencing. You can find out about Stewart Iron Works on its Web site, StewartIronWorks.com.
Q: What is Ornawood? I have bookends shaped like Scotties. They look like rubber or beige wood. There is a foil label on the bottom with the word "Ornawood."
A: Ornawood, made in the United States, is a product like Syroco-pressed wood and resin. It was molded into objects sold in gift shops in the 1940s and '50s. Bookends, boxes, ashtrays, tie racks, thermometers and picture frames were popular. Three-dimensional figures of Scotties were used on many of the items.
Tip: Cuckoo clocks sometimes need minor first aid or major repair. First try home remedies. If the clock stops, it might be because it is not level. Try shifting the clock a bit. The clock will not run correctly in a draft. Hang the clock so it is flat against the wall. Have the clock oiled every two years and cleaned every four. Major repairs should be done by a professional.
¢
The Kovels answer as many questions as possible through the column. By sending a letter with a question, you give full permission for use in the column or any other Kovel forum. Names and addresses will not be published. We cannot guarantee the return of any photograph, but if a stamped envelope is included, we will try. The volume of mail makes personal answers or appraisals impossible. Write to Kovels, (Lawrence Journal-World), King Features Syndicate, 300 W. 57th St., 15th Floor, New York, NY 10019.
Copyright 2018 The Lawrence Journal-World. All rights reserved. This material may not be published, broadcast, rewritten or redistributed. We strive to uphold our values for every story published.