Photo Gallery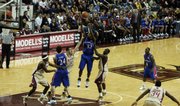 KU vs. Boston College
Boston — Ask NBA scouts to name the Kansas University player who will make the most money in his basketball career and most will answer Darrell Arthur.
They watch him run the court so swiftly, consistently getting back on defense, which allows the guards to protect the perimeter against three-point shots. They watch Arthur catch the ball reliably. They watch him throw down a one-handed slam as he did in Saturday's 85-60 blowout against Boston College in sold-out Silvio O. Conte Forum. They watch him slide his feet so well for a 6-foot-9 player. They love all those ingredients that project future success.
All of that can make Arthur a frustrating player to watch sometimes. At times, he looks a little unsure of where he should be and what he should be doing. Saturday's game was not one of those times.
The sophomore forward from Dallas contributed 22 points, seven rebounds and two blocked shots.
"I said going into the season I thought he was our most improved player," KU coach Bill Self said. "He hasn't played to the level of what I thought his improvement was, to be real candid with you. He needs to be a guy who can average 16 to 18 for us. Night in and night out, he should be able to generate points, and he hasn't done that consistently. So it was great to see him get off to a good start."
Arthur leads the team with a 13.7 scoring average, ranks second with six rebounds per game and leads the team with 22 blocked shots.
He's a force, but why isn't he more of a consistent force?
"He's our leading scorer," Self said. "If you want to really think about this, everybody sees his ceiling, which is so high. How many did (Nick) Collison and (Drew) Gooden average as sophomores, first part of the season?"
Gooden averaged 15.8 points and 8.4 rebounds as a sophomore, the same year Collison averaged 14 points and 6.7 rebounds.
Self forever preaches to Arthur to try to get easy baskets, which isn't as easy as it sounds.
"A lot of it is he doesn't really understand how to put himself in position to get easy baskets," Self said. "When he starts understanding that, offensive rebounds, put-backs, getting to the line, things like that, he'll get better. ... He's really starting to understand the game."
Arthur had four of KU's 10 dunks and didn't waste time floating on the perimeter, which had been a problem early in the season.
Easy shots are harder to find than low-percentage ones.
"It's kind of hard to get them with all the bigs in there," Arthur said. "When you get a chance to score them, you have to take advantage."
On this afternoon, he didn't rush his inside shots, a common problem for young players.
Asked if Arthur dominates in practice, junior Brandon Rush said, "Does he ever. He takes control of practice. His fade-away's unstoppable. You can't block it."
Of himself, Rush said he still is "about 85 to 90 percent" recovered from knee surgery, and said he thought Sherron Collins was closer to a full recovery from foot surgery. Projecting physical improvement from those two key players and a continued maturing of Arthur's game, it's easy to see Kansas entering the NCAA Tournament as a No. 1 seed, if not the overall No. 1 seed.
Copyright 2018 The Lawrence Journal-World. All rights reserved. This material may not be published, broadcast, rewritten or redistributed. We strive to uphold our values for every story published.