Photo Gallery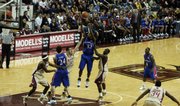 KU vs. Boston College
Boston — Speed kills.
Having its leading scorer - junior guard Tyrese Rice - spend 10 second-half minutes on the bench in foul trouble only compounded the problem for Boston College's men's basketball team.
"I think we got a little bit tired," said Boston College coach Al Skinner following his team's 85-60 home loss Saturday to Kansas University. "It's just one of those things. When someone's just faster than you, they're faster than you, and that's just something you have to accept. That's the reality of it. Sometimes athletics are like that. It put us at a disadvantage."
BC was left to admit defeat because of factors it couldn't control and some it could.
Rice lamented the Eagles' rebounding, which resulted in KU drumming the Eagles out of the gym in transition opportunities.
Boston College mustered just 11 offensive boards against 23 defensive rebounds pulled down by the visitors.
"In transition, some of the shots, they'll get the rebound, and whoever gets the rebound outlets, and there's already four guys down the court," he said. "If your offense is rebounding well, then that limits them."
Although Rice was on the bench at the time, having picked up his third and fourth fouls early in the second half, one facet of the game he conceded that his team couldn't control was that KU was going to wake up after a slight lull soon after the intermission.
Just past the 10-minute mark in the second half, with the Eagles having closed their deficit to 14 points, KU guard Mario Chalmers became tangled up with BC freshman Rakim Sanders at midcourt.
Nothing came of the brief near-skirmish except for words, but it gave the Jayhawks all the emotional fuel they needed, going on a charged-up 8-0 run.
"No good team is going to go away," Rice said after the Eagles fell to 10-3 on the season. "They were kind of relaxed, we made our push, and then it got a little chippy, and I guess that woke them up."
Then Rice backtracked a bit. He had scored 18 points in a solid first-half showing, keeping the game close for a while with his four three-pointers.
But even had he done more than tally just a meaningless late layup in the closing minutes of the blowout, his opinion wouldn't have changed: The Jayhawks were too good to hold down.
"You can't really say that what happened woke them up," he explained. "Because eventually they were going to step it up anyway."
Copyright 2018 The Lawrence Journal-World. All rights reserved. This material may not be published, broadcast, rewritten or redistributed. We strive to uphold our values for every story published.