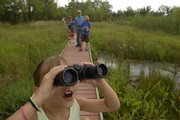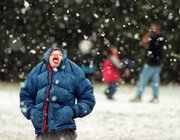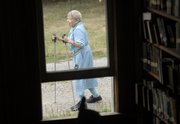 Learn more
Journal-World photographers will lead an event titled "Introduction to Digital Photography" later this month at the Lawrence Arts Center, 940 N.H. It will be from 7 p.m.-9 p.m. Jan. 31.
The event is free, but space is limited Call 832-7206 for registration information.
Editor's note: The Journal-World is bringing back a feature called "Behind the Lens," in which staff photographers will tell how they captured the images you see in the paper and offer other photo advice. The feature will appear Sundays in the Pulse section. To kick things off, photographer Mike Yoder gives his top 10 tips for using a digital camera.
Everyone seems to enjoy lists. I especially love to read people's year-end compilations of top movies and best albums of 2007.
Figuring that many people may have unwrapped a new digital camera for Christmas or may have one on their wish list for 2008, I've created a list of my own on digital photography. We'll call it Mike's Top Ten List of Practical Tips, Tools and Talents for Digital Photography.
1. Size matters. The higher the camera's megapixel rating, the higher the quality of your images. If you want to frame 8-by-10-inch photographs, you need a minimum of a 4-, and preferably, a 6-megapixel camera. If you only require 4-by-6-inch prints, you would be fine with a smaller megapixel camera.
2. Digital cameras require media cards to capture and store images. Basically, they are like small, removable hard drives. The larger the capacity of your media card, the more images you will get on the card.
Capacity terminology in this case is in megabytes, or MB. A 32 MB media card in a 6-megapixel camera would only get you 10 pictures. My suggestion is to purchase one or more of the largest cards you can afford. A 512 MB card in a 6-megapixel camera gives you a capacity of 160 images. Unlike megapixel ratings in cameras, card capacities have nothing to do with image quality.
3. A lot of professional photographers use flash outdoors. Although it sounds crazy, it's a good way to eliminate unpleasant shadows on people's faces caused by harsh sunlight.
By manually selecting your camera's Flash On setting, you can take creative control over harsh sunlit subjects. In the Flash On mode, the camera will set an exposure for the background while your flash will illuminate your foreground subject. If the subject is too distant, however, the flash may not be effective.
Flash On and Auto On are not similar settings. Auto On will only fire when light is low. Flash On forces the flash to fire no matter the conditions.
4. I use an expensive, professional camera at work. It's an excellent camera, but it has nothing like the built-in macro capability of my home digital point-and-shoot. You're missing out on a lot of fun if you don't give it a try.
Like the Flash On option, the Macro feature is one you must set manually. The Macro setting on your camera probably looks like an image of a flower. Once selected, your camera's lens is capable of getting within just a few inches of a subject for a detailed photo. While flowers are an obvious choice, even the simplest objects take on a fascinating quality when explored with your Macro option.
5. A handy tool I keep in my camera bag is a small tabletop tripod. I use it for self-portraits, time exposures or just to steady the camera in low light. Mine has an adjustable ball-head that makes it easy to point the camera in any direction. Using a tripod and a camera's self-timer also gives you the ability to be in your own photographs.
6. A common ailment of boring photographs is a lack of depth, or compositional interest throughout the image.
Think of a photograph as having three planes - a foreground, middle and background. See if you can compose photographs that have elements or information in each of these planes. Your main subject should be obvious and will probably be the most dominant element in the photograph and the one in focus. Framing other elements in the foreground and paying attention to what is in the background can create more dynamic photographs.
7. Distinguish your photos from run-of-the-mill snapshots by choosing different perspectives. Take a photograph of a baby or child at their level. How about photographing a subject from above? Photographs that put the viewer in unique or unusual locations add interest.
8. Avoid centering your subjects. The Rule of Thirds, a popular principle among photographers and other artists, can help you improve your composition.
Imagine drawing lines dividing an image into thirds both horizontally and vertically. Images with the subject aligned with the intersections of these lines often are more appealing. Typically, cameras will auto-focus on what is in the center of the frame when you press the shutter button. But most cameras also enable you to lock your focus on a subject by partially pressing down on the shutter button. By using this technique you can lock the focus on your subject, then recompose applying the Rule Of Thirds.
9. Knowing when and how to anticipate moments can lead to extraordinary photographs. Regardless of whether you are photographing a child's birthday party or a space shuttle launch, if you don't have your camera to your eye with anticipation, you won't get the photo of the candle getting blown out or the blast off for space.
Seldom do professional photographers get prize-winning photographs by suddenly seeing an extraordinary event and then pulling out their camera to miraculously capture the scene. Anticipating the visual possibilities can put you in the right place at the right time for memorable images.
10. Shoot lots of photos. You can't use the excuse that it wastes film anymore. You can always erase digital images and keep trying.
When I'm successful with a photograph, it often means I've taken dozens of less successful frames. A good photographer is somebody who never tires of shooting multiple frames of the same subject, from different perspectives, using all the tips, tools and talents at their disposal.
Copyright 2018 The Lawrence Journal-World. All rights reserved. This material may not be published, broadcast, rewritten or redistributed. We strive to uphold our values for every story published.