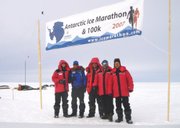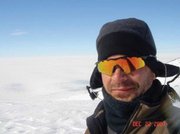 Shawnee — No one said running a marathon in one of the coldest places in the world would be easy.
For Mark Andresen of Shawnee and Mike Ketchmark of Leawood, the Antarctic marathon was the ultimate way to honor Andresen's father, who recently died after a long battle with cancer, while taking another step toward their goal of running a marathon on every continent. But a few more challenges were thrown their way.
Originally scheduled to leave Dec. 8 and return home Dec. 19, Andresen and Ketchmark's journey was lengthened by six days because of weather and other factors.
Still, the friends made it home to Kansas City in time for Christmas.
On the front end of their journey, the friends spent six unexpected days in Punta Arenas, Chile, when their plane was unable to take off and land because of weather conditions in Antarctica. But the two made the most of their time by doing some sightseeing.
Finally, Andresen and Ketchmark made it to Antarctica on a large cargo plane.
"The door opened, and you just kind of look out to the endless expanse of snow and ice; it was a neat experience," Andresen said.
The runners took a 45-minute hike to camp, where they were briefed on conditions and waited to run the race. A trail for the race was plotted, but a blizzard came through and wiped it out. The runners explored their new ice world for two or three days before the race was rescheduled.
"It was light 24 hours a day, so it really messed with you," he said. ": The incredible thing, the thing that really surprised me the most - I knew it was an ice continent, I knew it was snow a couple miles deep, but until I saw it, I didn't really understand. It's impossible to explain to people; it truly stunned me."
The morning of the marathon, snow was expected, but the runners voted to run anyway.
"It was probably the coldest morning that we were there, and there was low cloud cover, so it was a white-out," Andresen said.
This was when the full meaning of white-out came home to the runners, playing tricks on their eyes. Andresen said he had to focus on the flags placed every 200 yards along the course or the runner in front of him.
"If you took your eyes off that, you'd lose track of where you're at; you'd lose track of up or down," he said. "It's the strangest feeling. : I still distinctly remember seeing the flags; you'd see one flag and it would stand out like glowing neon; your eyes would immediately go to it because your eyes are looking so hard for color."
Andresen took seven hours to complete the 26.2-mile marathon, a tough task through ankle- to shin-deep snow. Ketchmark had worse luck, getting lost several times and taking another couple of hours to finish.
Andresen and Ketchmark had hoped to return home by Christmas. But they missed their flight home on Christmas Eve by two hours. They made it back to Kansas City on Christmas Day.
"The hardest part was when I asked my son if he got everything from Santa, and he said, 'No, I didn't get you home on Christmas morning,'" Andresen said.
Copyright 2018 The Lawrence Journal-World. All rights reserved. This material may not be published, broadcast, rewritten or redistributed. We strive to uphold our values for every story published.