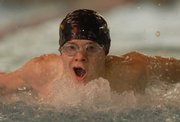 Matthias Reiber was ready.
The Lawrence High sophomore was set for a two-and-a-half front somersault dive, when the announcement came for him to step down so the previous diver could dive again.
The break in concentration didn't matter.
Reiber completed the dive and garnered all sixes, which helped propel him to a first-place finish in the one-meter event at the Lawrence Invite - featuring Free State, Leavenworth and Shawnee Mission North - on Thursday at Lawrence High.
Reiber said the interruption wasn't necessarily a bad thing.
"You get set up and focused on the dive," Reiber said. "Then it breaks the concentration, and you have go through it in your mind again, step-by-step. But I felt more confident going back up there, so it may have helped."
Fellow Lion T.K. Pracht finished 17 points behind Reiber, but it was good enough to give Lawrence High the top two spots. Free State High's Jeff Carmody finished third.
In swimming, both schools showed well. Lawrence High's Zach Henderson matched Free State's Mitch Moore with two first-place finishes. Henderson took top honors in the 100-yard butterfly and the 100-yard backstroke, while Moore took the 50 freestyle and 100 breaststroke. Henderson also was part of the first-place 400-yard freestyle relay team that also featured Skylar Koerner, Walter Summers and Alex Boyer. Moore and Firebird teammates Nolan Frank, Tony Libeer and Kendall Harris, took first in the 200-yard medley relay.
The Invite was the first meet for both teams since winter break, and both coaches were pleased overall.
"Some guys worked out over break, and that showed," LHS coach Kent McDonald said. "Others didn't work out as much, and that showed too. But we had some good practices this week, and overall it was a good meet for us."
Despite dealing with similar issues of conditioning during the break, Free State coach Annette McDonald also was pleased with her team's showing.
"It was a real exciting meet from start to finish with a lot of energy," she said. "We've got some things we need to work on, but I'm really proud of what the guys did out there today."
Copyright 2018 The Lawrence Journal-World. All rights reserved. This material may not be published, broadcast, rewritten or redistributed. We strive to uphold our values for every story published.