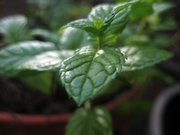 With all of the variety in the world, we are a species that still gravitates to what we know best: the familiar.
Well, maybe we should shake off the bowlines this winter and dive headfirst into the odd and peculiar by growing some plants that are way off the beaten path.
This idea occurred to me when a friend was explaining how she had made some cookies with stevia. I looked at her with an unknowing glance, completely oblivious to what in the world stevia was. As she explained, it's an alternative sweetener that is all-natural as well as calorie- and carbohydrate-free. Interesting, something strange and curious that we can grow in our own kitchens.
Stevia rebaudiana is a small perennial shrub that belongs to the chrysanthemum family. It is rather difficult to start by seed, so it is best to buy a small plant from a nursery.
Nancy O'Connor, director of education and outreach for the Community Mercantile Co-op, explains this unfamiliar plant: "Also called sweet leaf, stevia has been used as an herbal sweetener for centuries, mostly in South America and the Far East. In Japan, where the government approved the use of the herb in 1970, stevia and its extracts make up approximately 40 percent of the sweetener market and are used by some major soda companies to sweeten their diet sodas. Stevia is 30 times sweeter than sugar."
According to O'Connor, we in the United States are less knowledgeable of the sweetener because it is required to be sold as a nutritional supplement, which has limited its widespread use.
As I ask O'Connor about more interesting plants to grow, she says, "What about edamame? Ah, the only green food my son will eat."
Edamame grows like bush beans and, unlike soybeans, which are harvested after they dry, it should be harvested when they are green and have two to four seeds in the pod.
O'Connor suggests why edamame hasn't caught on in the home garden: "I imagine most home gardeners don't think about planting soybeans, plus they are not an everyday staple in many households. Although they should be - they are a good source of protein, isoflavones and are inexpensive."
Ocoee Miller, an herbalist and gardener for 50 years, relishes in the experimentation of growing the unknown. "I delight in growing plants that are 'impossible' to grow in Kansas," she says. "If you don't try, you won't know what you can accomplish. The lessons plants have to teach us are endless. By always trying to grow new and different plants, we keep the flow of plant lessons going. Mother Nature loves us when we do this."
Some of her favorite "plant lessons" have come from the tropical variety. Miller has successfully grown avocado, papaya and mango trees from the fruit she purchased at the grocers. The avocado and papaya create an exotic, tropical tree rather quickly, while the mango is a slower grower.
"An indoor tree that is a favorite of mine is the miniature lemon tree," Miller continues. "Ours is over 30 years old, about 4 feet high, and she give us delicious lemons almost year-round. Besides, when she is blooming, the entire living room is perfumed by her flowers."
For those who love to cook but might get a bit overwhelmed by the price of spices, Miller suggests trying to grow tropical roots such as ginger, turmeric and cardamom. The plants themselves have straplike leaves and might produces waxy, brilliant tropical blooms, but the roots are what you want to harvest. Simply plant some of the seeds from the grocery and never purchase ginger again.
Jozie Schimke, co-owner of Earth Flowers, agrees. "To be an engaged gardener, one must try new plants every year," she says. "The world is so full of untried plants; it's hard to fit them all into one lifetime of experimentation.
"Dwarf pomegranate has beautiful orange flowers and edible fruit and can be grown indoors in the winter," she adds. "Serissa japonica 'Mount Fuji' is a shrub with tiny dark leaves edged with white. It produces white flowers all winter and spring, and the leaves are always gorgeous. Corokia is a very unusual shrub from New Zealand. They are an excellent conversation piece - with their tiny gray leaves and lots of stems, they resemble living tumbleweeds, plus they come in varieties with chocolate and lemon-yellow leaves."
And if you are thinking that many of these unique and unusual plants are not commonly seen because they are too difficult to grow, you would be mistaken. Many, if not most of these floras, are as easy to grow as a tomato plant or a ficus tree.
Schimke offers one last suggestion: "Crassula ovata 'The Hobbit' and 'Gollum' - the names are so great, how can anyone resist? These succulents are versatile, grow slowly, distinctive and take little care. In fact, my college-aged son was able to keep his Hobbit alive, a great tribute to the plant's strength of character."
So, don't let your green thumbs become dormant this winter. Take this opportunity to sow what you have never sown before, to take on the world of plants with whimsy and gusto and experiment.
Copyright 2018 The Lawrence Journal-World. All rights reserved. This material may not be published, broadcast, rewritten or redistributed. We strive to uphold our values for every story published.