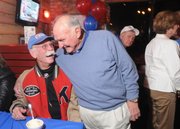 2008 Orange Bowl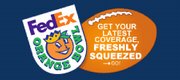 Video, photos, blogs, podcasts, latest news and more!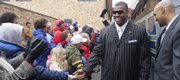 Journal-World KU reporter Jonathan Kealing is covering the fans in and on their way to Miami for the Jayhawks' first ever BCS bowl game. Check out some pitstops and potholes on the way to Miami and keep up with Journal-World Orange Bowl coverage from Miami on our interactive road trip map.
Miami — Members of the 1948 and 1969 Kansas University Orange Bowl teams swapped stories Wednesday night over drinks at Daisy Duke's, when Don Fambrough started bragging about his roommate from the '48 team that lost to Georgia Tech, 20-14.
"He flew 60 missions in World War II," Fambrough said while introducing Marvin Small, in town from College Station, Texas, for the Orange Bowl.
Small interrupted: "I did not."
Fambrough: "Hey, you be quiet. I'm telling this story."
For the record, Small said he was trained to fly by the military during World War II, but he didn't fly any missions.
"Right before I left, it was VE-Day (Victory in Europe)," said Small, 84. "Then I was on the West Coast, ready to leave for Japan, and we dropped the bomb."
Small was wearing his original 1947 varsity letter jacket, a gray handle bar mustache, and a smile when he chatted with Fambrough.
A few booths down from there '69 Orange Bowl MVP Donnie Shanklin, was asked what he remembered about the game.
"Twelve men on the field," Shanklin said.
Around the corner from there, a pair of offensive linemen who blocked for Shanklin and others, offered a different perspective on the game.
Ken Wertzberger of Lawrence and Keith Christensen of Concordia talked about the play they said they always talk about when they get together.
"There's a little known fact, which I'll probably get some flak for," Wertzberger said. "It really wasn't the 12th man that we lost for. It was because John Riggins ran to the wrong hole on fourth-and-one on the 5-yard line. Keith and I were double-teaming on the tackle (All-American Mike Reid). I didn't have a very good game that day but that particular block was really good. We knew we'd thrown him out and then all the sudden we heard the roar of the crowd, we turned down and he had been tackled. We didn't know what happened until we watched the TV version of it. He was supposed to run straight ahead behind us. He for some reason went out like that (points to the right) and was stopped for no gain. He would have scored if he had run straight ahead. I'm going to get in trouble for saying that, but it's the truth."
Rick Abernethy, who labeled himself the 12th man after the game, did not make the trip from Kansas City for the game, but might be happy to hear that Christensen confirmed Wertzberger's version of the play.
"That's OK, though, that happens," Christensen said. "Nobody to blame. John just made a sophomore mistake, that's all."
By this time, Fambrough and Small had found other ears to bend and were sitting at separate tables.
Small was talking about the guest speaker at his high school banquet, Paul "Bear" Bryant, then an assistant coach at Vanderbilt.
"He was one fine looking man," said Small, who grew up in Gadsden, Ala., attended Vanderbilt on a football scholarship, and after WWII, joined the KU football team as a walk-on. Fambrough also changed schools after the war, switching for the University of Texas to KU.
"My daughter's assistant dean of the pharmacy school at Texas," Small said. "I told Don he better not do anything to upset me or I'll have my daughter look up his grades."
At that point, the Rock Chalk chant broke out and many of blue-clad patrons joined in, 24 hours before KU's third Orange Bowl kickoff.
KU bowl history
2005 - Fort Worth Bowl (41-13 W over Houston)
2003 - Tangerine Bowl (56-26 L vs. NC State)
1995 - Aloha Bowl (51-30 W over UCLA)
1992 - Aloha Bowl (23-20 W over BYU)
1981 - Hall of Fame Bowl (10-0 L vs. Mississippi State)
1975 - Sun Bowl (33-19 L vs. Pitt.)
1973 - Liberty Bowl (31-18 L vs. NC State)
1969 - Orange Bowl (15-14 L vs. Penn State)
1961 - Bluebonnet Bowl (33-7 W over Rice)
1948 - Orange Bowl (20-14 L vs. Georgia Tech)
Copyright 2018 The Lawrence Journal-World. All rights reserved. This material may not be published, broadcast, rewritten or redistributed. We strive to uphold our values for every story published.