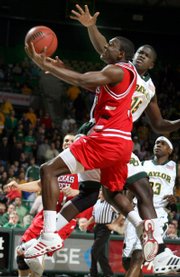 Related document

Big 12 Spotlight 02-27-08 ( .PDF )
Augustin receives honor
Texas sophomore D.J. Augustin was named the Big 12 Player of the Week.
Augustin has been instrumental in UT's eight-game winning streak. He averaged 23 points and six assists in the Longhorns' two victories last week.
Augustin presently leads the conference in assists (5.93 per game) and ranks second in scoring (19.3).
"He's the best point guard in the country," Kansas State coach Frank Martin said of Augustin. "He's a ferocious competitor. Guys who play with him get easy shots after easy shots."
The Longhorns have fed off Augustin defensively as well. Texas has held its last three opponents to an average of 53.3 points per game.
"That's why Texas can go to UCLA and win," Martin said. "It's why they can beat Kansas at home, because of who he is. In my two years of watching him play, I think he's unbelievable. And if, for some reason, you foul him, it's going in the basket. That's an open and shut case."
Augustin is a 79 percent foul shooter on the season.
Capel praises Griffin
Oklahoma coach Jeff Capel was asked if he could compare Sooners freshman Blake Griffin to any of Capel's former teammates when he played for Duke.
"I played with a guy who was a heck of a rebounder in Cherokee Parks, but Chief was different than Blake," Capel said. "I haven't been around a guy (Griffin) with that kind of size, strength and athleticism. He's not afraid to be physical and actually enjoys contact.
Miller very doubtful
Nebraska coach Doc Sadler said starting point guard Cookie Miller was "very doubtful" for today's home game against Oklahoma. Miller suffered a severe shoulder sprain in Saturday's victory against Texas A&M.;
"With him playing 30 minutes a game, it's going to impact us," Sadler said of the freshman. "(Point guard) is the hardest position on the court. You have to have a feel for the game and make that pass half a second earlier than someone else. The good news is we have two other guys with some experience who practice that position every day."
Sophomores Sek Henry and Jay-R Strowbridge would see increased time with Miller out.
TTU guards improving
Texas Tech coach Pat Knight said he's been pleased with the development of his guards, namely Martin Zeno and Alan Voskuil.
"If you look at the teams playing well, they have good scorers at home and on the road," Knight said. "(Zeno and Voskuil) had a tendency to stand a little much. It'd be five to 10 minutes where they wouldn't get a bucket. If they keep moving and cutting in our offense, that's the main thing.
Voskuil has averaged 19.4 points in Tech's last five games, while Zeno has averaged 17.4 in that span.
Drew doesn't mind call
Baylor coach Scott Drew was asked if senior guard Aaron Bruce should have been called for the foul that sent Oklahoma's Tony Crocker to the line for a four-point play on Feb. 19. OU eventually won in overtime, 92-91.
"The official called it, so it must have been (a foul)," Drew said. "OU made tough shots and they won that game, so give them credit."
Game of the week
Kansas State at Kansas, 8 p.m. Saturday. Jayhawks seeking revenge for Jan. 30.
Copyright 2018 The Lawrence Journal-World. All rights reserved. This material may not be published, broadcast, rewritten or redistributed. We strive to uphold our values for every story published.