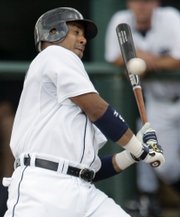 Omar Vizquel's ailing knee could keep him out of the San Francisco Giants' lineup on opening day. Pitchers Scott Kazmir of the Rays and Brandon McCarthy of the Rangers are going slow so they don't miss any time once the regular seasons starts.
Vizquel will have arthroscopic surgery on his left knee Wednesday and is expected to miss four to six weeks. The 11-time Gold Glove shortstop, who turns 41 in April, tested his knee Tuesday but said the pain was too much to handle.
"My knee was feeling good," Vizquel said in Scottsdale, Ariz. "I wanted to give it a hard shot in order to make a decision. It didn't work. I felt a little pop when I was running. That's what I wanted to see - to see if I could sustain the pain, and I couldn't."
As for Vizquel's return, athletic trainer Dave Groeschner said: "The goal is the first week of the season but the knee will tell us."
In exhibition games Tuesday, it was: New York Mets 4, University of Michigan 4; Detroit 17, Florida Southern 4; and Florida 7, University of Miami 2. Philadelphia was to play Florida State in a night game.
Kazmir missed a scheduled intrasquad game appearance in St. Petersburg, Fla., after feeling discomfort in his elbow on his final warmup pitch. McCarthy was scratched from Wednesday's spring opener because of elbow soreness.
Kazmir had warmed up in the bullpen without a problem, then watched the first half-inning from the bench. The AL strikeout champion threw three warmup pitches before leaving the mound and walking to the clubhouse for tests.
"I was warming up, feeling great," said Kazmir, who was 13-9 with a 3.48 ERA last season, when he led the AL with 239 strikeouts - one fewer than major league leader Jake Peavy. "On my last warmup pitch ... I just kind of felt a little discomfort."
The Rays said the 24-year-old, who agreed to a $3,785,000, one-year contract last month, would undergo an MRI exam later in the day. His status was to be updated on Wednesday.
"When you have a guy like that, who's never really been hurt before, sometimes it's hard for them to gauge. We'll just wait," manager Joe Maddon said, adding that Kazmir's first spring training start, scheduled for Saturday, might be affected.
Rangers manager Ron Washington said McCarthy's injury was minor and he was being held back as a precaution.
"He's good and strong and he's got a good mental attitude," Washington said. "We don't want to send him out there with something on his mind where he can't be free and he gets hurt for real."
Left-hander A.J. Murray will start the Rangers' spring opener Wednesday against Kansas City.
McCarthy missed a month last year with a stress fracture in his right shoulder blade and finished 5-10 with a 4.87 ERA in 23 appearances, 22 of them starts. He also battled problems with blisters.
McCarthy said the elbow has bothered him about a week, and he had hoped it would clear up in time to face the Royals.
"We're still in February," McCarthy said in Surprise, Ariz. "There's no need to rush anything. I'd be concerned if this were March 25."
Kevin Millwood, the Rangers' No. 1 starter, will miss his first scheduled start Friday after injuring his right hamstring during conditioning drills Sunday. He played long toss Tuesday, making about 40 throws.
Tigers 17, Fla. Southern 4
At Lakeland, Fla., Miguel Cabrera, Placido Polanco and Brandon Inge each homered for Detroit, along with non-roster invitees Scott Sizemore and Michael Hollimon. Colin Kaline, grandson of Tigers Hall of Famer Al Kaline, went 0-for-4 and played second base for Florida Southern.
Mets 4, Michigan 4, 9 innings
At Port St. Lucie, Fla., David Wright homered his first time up and the Mets tied the University of Michigan in an exhibition game worked by an umpiring crew of four women.
Wright hit a two-run homer in the first inning. Michel Abreu hit a two-out, two-run homer in the bottom of the ninth to tie it, and the game was called after the inning ended.
Also at Mets camp, Pedro Martinez said it's up to New York to talk to him about a new contract. The right-hander is beginning the final season of his four-year, $53 million deal and eager to find out how his right shoulder holds up.
"If they approach me, that's fine," he said. "I'm very content, very satisfied with the way they have treated me here. They have my respect, regardless of whether they offer me or not, or I have to go somewhere else."
Marlins 7, Miami 2
At Jupiter, Fla., Alejandro De Aza had two hits and an RBI and Chris Seddon struck out three in two scoreless innings for Florida, which used eight pitchers and allowed only one walk.
Copyright 2018 The Associated Press. All rights reserved. This material may not be published, broadcast, rewritten or redistributed. We strive to uphold our values for every story published.