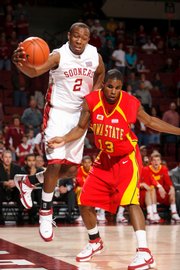 Ames, Iowa — A victory over Kansas University tonight would mean a lot not only to Iowa State senior Rahshon Clark, who is a dismal 1-6 versus the Jayhawks, but also second-year coach Greg McDermott's entire Cyclone program.
"Me, personally, I had a great season, a great four years here," Queens, N.Y., native Clark told the Ames Tribune. "But we have great recruits coming in. My career is ending quickly, and you always want to end on a high note. Every win we could get would be great not only for me, but for the program."
Clark was a freshman forward when the Cyclones (14-13, 4-8) tripped KU, 63-61, in overtime at Allen Fieldhouse. Last year, he grabbed two rebounds in 43 minutes, but did not score in another OT game - ISU's 68-64 loss in Ames.
That game was the closest ISU has come to defeating a ranked team in the still-young McDermott era. ISU is 0-8 against ranked teams entering today's 6 p.m. game.
"I have not given that any thought," McDermott said. "We beat a good Purdue team (83-80 at Las Vegas Invitational) when they (Boilermakers) were not yet ranked. Obviously we've had some near-misses against teams when they've been ranked. We take them one at a time."
Purdue currently is ranked No. 16 in the land.
ISU has been in a funk, dropping seven of its last nine games. However, the Cyclones are 4-2 at home in league games and 12-4 overall at Hilton Coliseum.
"It would be nice to go into the spring finishing the year playing well," McDermott told the Ames Tribune. "If that means we can win a couple here late in the conference season and go into the conference tournament with a little momentum and hopefully spend more than one day there, that would be a positive."
ISU will finish with KU and Kansas State at home and Missouri and Colorado on the road.
¢ More on Appleton: Tyrone Appleton, a 6-3 guard from Midland (Texas) College, who orally committed to KU on Monday, is originally from Gary, Ind.
"Oh man, it's crazy," Appleton said of his hometown. "I mean it was rough growing up, but hey, it's where I am from. I'm used to it."
Appleton, by the way, knows KU signee Mario Little.
Appleton's Midland team clubbed Little's Chipola (Fla.) CC squad, 94-75 in last year's national title game in Hutchinson.
Appleton scored 21 points off 7-of-9 shooting, including four of five threes. Little was 0-for-3 from the field and didn't score in a reserve role.
"He is real good," Appleton said of Little. "He's quiet, but he's cool. I think we'll be a real good backcourt at KU."
Little had this to say about Appleton in an interview with Shay Wildeboor of Rivals.com: "I can tell you that he is a very good player. Man, he is a really tough guard. I am excited that he is coming to Kansas. Kansas is losing a lot of players, but we are also bringing in some very good high school players and two very good junior-college players. We just have more experience than the high school players, which should help us next season."
¢ Ups and downs: KU is 4-3 in its last seven games.
"I don't want to say it always happens, but teams go through these ups and downs, and right now we're kind of down," senior Jeremy Case said. "But it's going to make us better, I feel like. I feel that we'd rather be down right now than later in the season. So that way we can look forward to moving up."
¢ Hilton magic: KU has won five games in a row versus ISU, including three straight in Hilton.
"They have great fans, traditionally really good teams," KU coach Bill Self said. "When Danny (Manning) played here (at KU), he never won up there. Some good Kansas teams have not been successful there. It's a good atmosphere."
¢ Lions, tigers, ants, oh my: Self commented on KU's road woes: "Doug Tucker (of Associated Press) told me there have been books written on all different type species, how they act in their own environment and when they take them out of their environment whether it be ants, whether it be lions, whether it be birds, whether it be basketball players, whatever ... you take a group of fireants and move them into a totally different environment and you put four sticks around the environment, all of them are scared to cross the stick. In their own environment, you put the four sticks there, and they go wherever they want to go. Who knows why people are more comfortable at home? I have no idea ... the crowd, energy. It's not just college basketball it's life. You have to figure a way to get it done away from home."
Copyright 2018 The Lawrence Journal-World. All rights reserved. This material may not be published, broadcast, rewritten or redistributed. We strive to uphold our values for every story published.