Photo Gallery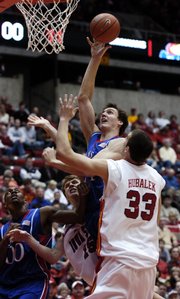 KU vs. ISU
Final, KU wins 75-64
AMES, Iowa - Many - if not all - eyes were on Darrell Arthur heading into Wednesday night's Kansas University road trip to Ames, Iowa.
Led by 18 points from the sophomore forward - three days after his roughest outing of the season in a 61-60 loss at Oklahoma State - KU ousted a pesky Iowa State club 75-64 in Hilton Coliseum, improving to 25-3 overall and 10-3 in league play.
More importantly, the well-rounded showing from the Jayhawks gave KU a nice boost heading into Saturday's rematch with Kansas State in Allen Fieldhouse. It will be KU's most anticipated home game of the 2007-08 season, followed Monday night with a Senior Night matchup against Texas Tech.
The offense flowed through Arthur right from go, as he scored 12 points before the half. He was just as integral after Iowa State closed to within six points at 36-30 in the opening minutes of the second half. The Jayhawks went on an 8-0 run in response, and were again both mentally and physically strong as ISU closed to wtihin nine points inside the four-minute mark of the game.
That time, it was a straight-on three-pointer by Mario Chalmers which served as the dagger. That bucket was the final piece in a 15-point performance for the junior guard. Brandon Rush was the only other Jayhawk to notch double figues in the scoring column, scoring 12 of his 15 points after the break.
The Jayhawks played without Rodrick Stewart, who is in Seattle attending the funeral of his 21-year-old brother Allen, who was murdered a week ago. Neither Tyrel Reed or Jeremy Case logged playing time in his place, as Bill Self went with a four-man backcourt rotation against the overmatched Cyclone guards. Sherron Collins scored seven points playing without a knee brace as his bone bruise in his knee continues to improve. Darnell Jackson also netted seven for KU, while Sasha Kaun scored eight.
Tipoff for Saturday's game against K-State is set for 8 p.m. Things will get started at 10 a.m., though, in Allen Fieldhouse with ESPN Gameday in town for the second straight year and the third time in four.
3:37, second half, KU leads 67-55
Jiri Hubalek made one of two free throws out of the timeout to get Iowa State to back within 10 points at 57-47, and Russell Robinson was off on a layup attempt in traffic on the other end. Wesley Johnson, though, lost the ball himself driving for the Cyclones, and Brandon Rush then cashed a layup in traffic while drawing a foul, making him the third Jayhawk to reach double figures in scoring. The free throw gave him 11 points and KU a bit more breathing room at 60-47.
Bryan Peterson answered with a long two, but Sasha Kaun then spun around again inside with the ball and dropped in an easy bucket. This time he was pushed in the back by Jiri Hubalek, getting him to the line. The charity missed, keeping KU ahead by 13.
Johnson was swatted by Kaun on the other end, but after a Brandon Rush three miss, Diante Garrett cut into the lane for two for Iowa State, leading to a 30-second ISU timeout.
Mario Chalmers continued to attack the basket and this time got a try at a couple of free throws, both of which he swished, keeping KU ahead comfortably by 13 points.
Rahshon Clark then got to the line for ISU, hitting a pair of free throws, and the Cyclones got a chance to pull to within single digits after a Darnell Jackson miss. Craig Brackins slipped in two off the glass to make it a nine-point game, but Mario Chalmers broke the hearts inside of Hilton Coliseum with a straight-away three atop the key before the full timeout, giving him 15 points.
7:57, second half, KU leads 57-46
Darnell Jackson made one of two free throws out of the timeout to give KU a cool 20-point lead. It was extended to 22 when Darrell Arthur slipped in his eighth bucket of the game on a slick spin move following a Sean Haluska miss.
Wesley Johnson swished another three for the Cyclones, giving him a game-high 17 points, and he then forced Arthur into a miss defensively. Diante Garrett cut to the basket for the 'Clones and dropped two in off the glass while getting hit. His free throw missed, leaving KU ahead 57-40.
Bryan Petersen then hit a three for ISU from straight away to pull the Cyclones to within 14 points. Mario Chalmers then turned it over underneath, and another Wesley Johnson helped the Cyclones continue to creep closer, now trailing just 57-46.
Bill Self then called a timeout to regroup, but Darrell Arthur's entry pass to Darnell Jackson went off the senior's fingers and out of bounds, giving ISU a chance to continue its charge. This time, Petersen missed a three, but the Cyclones controlled the rebound. Hubalek was then off on a turnaround jumper against Arthur.
Arthur missed a jumper from the right wing after that, and Hubalek drew contact on Arthur going up for a jumper leading into a full timeout at the 7:57 mark.
11:47, second half, KU leads 54-35
Sasha Kaun scored a nifty two points off a feed from Brandon Rush out of the first full break of the half. Craig Brackins responded for ISU with his first points of the game.
Rush then stroked his second three of the night after an initial Mario Chalmers feed inside to Sasha Kaun was kicked back out. Brackins then got himself to the line and swished a pair, but KU still held a steady 49-34 lead.
Rush's third trifecta of the game came after a Wesley Johnson miss from deep. Sherron Collins took down the long defensive rebound and after driving deep into the paint in transition flipped it back to the racing Rush, putting KU ahead comfortably by 18.
Collins pushed the lead even further after an ISU free throw, running an obstacle course with the ball in his hands around ISU defenders before dropping in two off the glass. That took KU to the 11:47 media timeout with a 54-35 edge.
15:54, second half, KU leads 44-30
Wesley Johnson started the second half scoring for ISU after a Darnell Jackson turnover with a quick pull-up two. Another Jackson giveaway led to a Sean Haluska three - the first ISU field goal from anyone other than Johnson or Jiri Hubalek. That cut KU's lead to eight points at 36-28. Haluska then hit another two-pointer after a Jackson miss inside to pull KU's lead down to six points at 36-30.
After a Bill Self timeout call, Darrell Arthur scored KU's first points of the second stanza with a jumper from the right wing just inside the three-point line. Darnell Jackson then pushed the lead back to 10 points after a Diante Garrett miss for the Cyclones, quickly quieting Hilton Coliseum.
Sherron Collins turned an ISU turnover then into KU's first free throw try of the game, getting hacked on a transition layup attempt. He cashed both to make it a quick 6-0 Jayhawk run and give himself five points on the night.
Hubalek tried to answer for ISU, but his miss turned into another transition try for the Jayhawks. This time it was Russell Robinson getting fouled going up to the glass. He too hit a pair of charities, extending KU's lead to a game-high 14 points.
Halftime, KU leads 36-23
Wesley Johnson hit a long two for ISU out of the timeout, giving him eight points in the game, but Darrell Arthur stepped back and cashed a mid-range jumper off a crossover dribble on the other end, giving him 10 points on the night and keeping KU's lead at 14 points.
KU called a timeout with 1:59 to play in the half and at the end of a lengthy possession out of it, Darrell Arthur put home two more tough points inside. Wesley Johnson's third three-pointer of the game was the answer for ISU, who has seen Johnson and Jiri Hubalek combine for all but one of its points tonight.
Another empty Cyclone possession gave KU a chance for the final shot of the half, but Chalmers was no good on a long three. Still, KU took a 36-23 advantage into the locker room.
Arthur finished the first half with 12 points and seven rebounds for the Jayhawks, who look aggressive and are 16-of-32 from the floor. For Iowa State, Jiri Hubalek and Wesley Johnson each scored 11 points, with the rest of the team only notching one.
3:19, first half, KU leads 32-18
Darnell Jackson flipped in his first two points of the game in tough fashion to put KU up 28-13 after the full timeout, but Jiri Hubalek answered back for ISU with two of his own in the paint, giving the Cyclone forward nine points so far. Hubalek then stole a Brandon Rush pass on the defensive end.
Russell Robinson then missed a three after the TV timeout just inside of the eight-minute mark. Rahshon Clark drew contact on the other end for ISu, which was KU's first team foul of the game, coming at the 6:35 mark. Clark made one of two free throws, and Hubalek hit two inside after a Darnell Jackson miss on the other end.
Sasha Kaun scored after a couple of blown ISU trips up the floor on offense, and the bucket came as the result of an impressive defensive carom by Brandon Rush. Rush then grabbed another board off a Cory Johnson miss, and this time, Darrell Arthur's fourth bucket of the game put KU up 32-18 with roughtly four minutes to go in the half.
10:39, first half, KU leads 24-13
Russell Robinson controlled the game's opening tip for Kansas, and after working the perimeter a bit, Brandon Rush fed Darrell Arthur, who missed a short turnaround hook shot to start the game.
Bryan Petersen missed a three for the Cyclones on the other end, and KU took possession after the rebound went out of bounds. Arthur again took an immediate feed on the other end, this time slipping in two on another short turnaround.
An ISU turnover gave KU a chance to extend its lead, but Mario Chalmers missed a three from the left wing. Wesley Johnson came back to cash a three of his own for the 'Clones, putting ISU up 3-2.
Arthur missed a mid-range jumper after that, and Brandon Rush missed a mid-range two of his own after KU controlled the offensive glass. Possession again stayed with KU after a foul was called on Craig Brackins, and Brandon Rush cashed a three to put KU back ahead. Brackins then lost the ball off his foot taking a post feed. Mario Chalmers answered with a slashing floater to extend the KU lead to four points.
Chalmers then stole a perimeter pass of ISU's and flew to the other end for an uncontested two-handed slam, continuing KU's opening surge.
Hubalek answered with two more for the Jayhawks, and Brandon Rush was then called for a travel, giving ISU the ball back down by four. A turnover was forced by Russell Robinson, leading to the game's first full break.
Iowa State was awarded the ball out of the timeout, but a shot clock violation was the result of the possession moments later, and Darrell Arthur answered for KU with a spinning two off the glass for his second bucket of the game.
Wesley Johnson came down to hit his second three of the game, pulling ISU back to within thiree points, and Brandon Rush couldn't respond, as his mid-range two fell off the back iron.
Alex Thompson was short on a turnaround hook against Arthur, and Sasha Kaun responded with two tough points inside for KU, pushing the lead back to five points at 13-8.
After a couple of empty possessions, Mario Chalmers cashed a three for KU to extend the lead to 16-8. Jiri Hubalek answered twice for ISU, however, with a two and then a three, but Sherron Collins nixed the mini-run with a three of his own to push KU back ahead 19-13.
Arthur made it again an eight-point game, slipping in a Sherron Collins miss for his third bucket of the game. Wesley Johnson was then long on a three, and a Mario Chalmers three continued the Jayhawks surge to start things off.
Pregame
AMES, Iowa - With the biggest home game of the regular season on the horizon, the Kansas University men's basketball team should have no problem not looking past Big 12 North foe Iowa State.
That's because the Jayhawks can hardly afford to do so.
Entering tonight's second matchup of the season with ISU, KU carries a 3-3 road record in league play, with the latest addition to that mark coming in Saturday's 61-60 loss at Oklahoma State.
Emotions had some effect on last weekend's action, as KU as a team was mourning the losses of Rodrick Stewart's younger brother and Darnell Jackson's cousin just days earlier. Stewart will miss tonight's game, as he's in Seattle for the funeral services.
That could mean minutes for freshman Tyrel Reed, whose playing time in the Big 12 season has been limited due in large part to injuries to both of his ankles. Reed could also take on some added pressure in needing to provide a spark off the bench, as KU's usual energy guy off the pine, Sherron Collins, is still slowed some after bruising his knee in practice a couple of weeks back. He played just 11 minutes and was scoreless in Stillwater.
For KU, all eyes will also have keen interest in the performance of Darrell Arthur. The Jayhawks' leading scorer on the season was plagued yet again by foul trouble at Oklahoma State, being limited to six points and six rebounds in 17 minutes of run before earning his fifth foul call.
In KU's 83-59 win over ISU at home on Jan. 23, the bigs ruled the roost from Bill Self's club. Jackson scored 21 and snatched 11 rebounds, while Arthur chipped in 16.
KU enters tonight's action at 24-3 overall and 9-3 in Big 12 play - 1.5 games behind league-leading Texas at 11-2. Iowa State is 4-8 in league action, but all four wins have come at Hilton Coliseum. It took KU overtime to win in Ames last winter.
Tip-off is set for 6 p.m., with the game being aired on ESPN (Sunflower channel 33, 233 HD).
Copyright 2018 The Lawrence Journal-World. All rights reserved. This material may not be published, broadcast, rewritten or redistributed. We strive to uphold our values for every story published.