Photo Gallery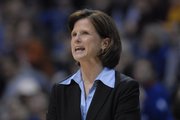 KU vs. Texas women's basketball
The late season tailspin continued Wednesday night for the Kansas University women's basketball team, as the Jayhawks let a seven-point halftime lead slip away, ultimately falling to Texas 57-53 in Allen Fieldhouse.
Sophomore Danielle McCray led the way for KU with 19 points and 10 rebounds, while freshman Krysten Boogaard added 10 points. KU was just 10-of-28 from the floor in the second half. Not that Texas was stellar (11-of-26), but the Longhorns outrebounded the Jayhawks in the second half 21-14.
Texas' Brittainey Raven led all scorers with 21 points.
It was the first road win in Big 12 play for Texas, who is now 5-9 in the league. KU drops to 4-10 with three straight losses on its resume, further fading postseason hopes of any kind.
The KU women take on Iowa State in Ames Saturday at 1 p.m.
For more on this story, read tomorrow's Journal-World and log back onto KUSports.com.
Copyright 2018 The Lawrence Journal-World. All rights reserved. This material may not be published, broadcast, rewritten or redistributed. We strive to uphold our values for every story published.