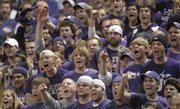 Related document

Big 12 Spotlight 02-27-08 ( .PDF )
Big 12 Conference teams have won a better percentage of their home games than any other of the six major conferences in America.
Big 12 teams have won 67.6 percent of their conference home games this season. The Southeastern Conference checked in at second with a 66.7 home winning percentage.
The 67.6 percent is an increase in the Big 12 from last year's home winning percentage of 64.5.
In fact, every Big 12 team is at or above .500 at home this season, with the exceptions of Colorado and Missouri.
Put another way, road victories have been extremely tough to come by.
"It's a mental deal," Texas Tech coach Pat Knight said of the difficulty of playing on the road. "Kids tend to play a little scared and get caught up with the crowd and the atmosphere. That's where leadership comes in. You have to have a coach on the floor to get guys going when things aren't going right."
Knight's Red Raiders are a prime example of the home vs. road disparity. TTU is 5-1 at home, but 1-5 away from Lubbock, Texas.
Other notable disparities include Kansas State (6-1 home, 2-4 road), Iowa State (4-2 home, 0-6 road) and Oklahoma State (4-2 home, 2-5 road).
This year's Big 12 Conference champion will likely come down to which team, among Texas, Kansas and Kansas State plays the best on the road.
The three teams are a combined 18-1 at home, but Texas is the only Big 12 school with a winning road record.
Texas currently sits atop the conference with a 5-2 away record. Kansas is second in the conference with a 3-3 road record, while K-State is third with a 2-4 road record.
"Who knows why people are just more comfortable at home?" Kansas coach Bill Self said. "Crowd, energy, I have no idea. But the best teams figure that out and find a way to get it done away from home."
What Keegan says
Familiar surroundings ranging from shooting background to the comfort of one's own bed play parts in home-court advantages in college basketball.
Obviously, the energy supplied by the students in the crowd gives the home team more endurance than the visitors.
Yet, one more undeniable factor seldom is discussed by coaches and players, for obvious reasons.
The home team gets more favorable calls from the visiting team.
Subconsciously, everyone feels the need to be loved, even referees, which helps to explain why so many more block-charge calls go in favor of the home team.
- Tom Keegan
Nationwide glance
Major NCAA Division I conferences:
1. Big 12Home: 50-24 (.676)
2. SECHome: 48-24 (.667)
3. Big EastHome: 76-39 (.660)
4. ACCHome: 45-29 (.608)
5. Big TenHome: 47-32 (.595)
6. Pac 10Home: 38-34 (.528)
Visitors unwelcome
Home and away examples of disparity:
Martin Zeno, 6-5 G, Texas Tech:Home: 19.8 points per game, 55-69 free throwsAway: 12.3 points per game, 18-25 free throws
Jacob Pullen, 6-1 G, Kansas StateHome: 32-73 FG (44 percent), 13.7 ppg, 4.1 assists, 18-23 free throwsAway: 18-45 FG (40 percent), 8 ppg, 2.3 assists, 3-9 free throws
Byron Eaton, 5-11 G, Oklahoma StateHome: 46-54 free throws, 9 trips per gameAway: 19-24 free throws, 3.4 trips per game
Richard Roby, 6-6 G, ColoradoHome: 19.6 points per game, 8.8 rebounds per gameAway: 13.8 points per game, 4.2 rebounds per game
Home cookin'
The following is a look at each Big 12 team's home and away records:
Texas LonghornsHome: 6-0Away: 5-2
Kansas State WildcatsHome: 6-1Away: 2-4
Baylor BearsHome: 4-2Away: 2-4
Texas Tech Red RaidersHome: 5-1Away: 1-5
Nebraska HuskersHome: 3-3Away: 2-4
Iowa State CyclonesHome: 4-2Away: 0-6
Kansas JayhawksHome: 6-0Away: 3-3
Texas A&M; AggiesHome: 3-3Away: 3-3
Oklahoma SoonersHome: 4-2Away: 2-4
Okla. State CowboysHome: 4-2Away: 2-5
Missouri TigersHome: 3-4Away: 2-4
Colorado BuffaloesHome: 2-4Away: 0-6
Copyright 2018 The Lawrence Journal-World. All rights reserved. This material may not be published, broadcast, rewritten or redistributed. We strive to uphold our values for every story published.