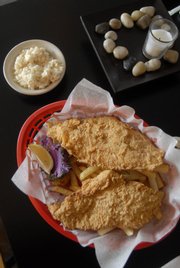 -->
If Midwest Fish Frye & So Much More were a book, it might be sorely misjudged.Set back in a strip mall across from a gas station, the restaurant looks unassuming. But step inside and ... well, it's so much more than meets the eye.
"I think a lot of people walk in and are kind of surprised - definitely can't go by the outside of it. I mean, not that it's horrible on the outside, but I think it surprises a lot of people when they walk in," says Dianne Gil, the restaurant's bookkeeper, cashier and jack of all trades. "I remember the first time I walked in, I was like, 'Wow, this is pretty cool!'
"We have comfortable tables and chairs, we've got a fireplace with a fish tank. It's just really nice ambiance."
The name also might leave some wondering what's behind the doors. The restaurant, 1910 Haskell Ave., had a previous incarnation as simply Midwest Fish Frye. But at the end of 2007, Anthony Gauna, owner of the neighboring Cross Town Tavern, bought the restaurant and shut it down.
It reopened with new management Jan. 14, just in time to serve fish - cod catfish and tilapia - for observers of Lent.
"We have specials Fridays and Sundays for Lent," Gauna says. "We also do all our stuff from scratch - we bread it ourselves; we don't buy anything prebreaded. We cook it as they order it. ... it's more like homemade than anything else."
But it's not just fish frying in the back - it's now Midwest Fish Frye & So Much More for a reason.
"We have dishes that include fish, chicken, beef, pork, shrimp and burgers. We have side dishes that include salads and dessert. We have sandwiches. We have Mexican food," Gil says. "Just a little bit of everything."
That's exactly what Gauna thought the restaurant needed when he used to patronize it under its former owners. So, when he got an offer to buy the place, he snapped it up.
"I was raised in Lawrence on this side of town, and I thought I had some ideas of what they'd like to eat," Gauna says.
Gauna says that because of the restaurant's small size - it seats 25 - it is able to keep the prices and wait down despite the food being made to order.
"We can keep our customers happy ... to seat 100 people, that would be hard," Gauna says. "Ninety-five percent of the stuff is made from scratch."
The restaurant plans to add a handful of tables to an outdoor patio when the weather improves, which would nearly double the amount of customers it can serve inside. It also has curbside pickup and free wireless Internet. And in its second month, it has begun business-only delivery.
"Once we get it out there and it gets going, then I'll have residential delivery," Gauna says.
Until he can go to them, Gauna hopes residential folks will venture to the east side of Lawrence to check out the restaurant.
"Some people said the name might hurt us, but you know once people ... start checking us out, maybe they'll just come to see," Gauna says. "I've always been one that you can't judge it until you've seen it or tasted it."
Lenten recipes
Deluxe Fish Sandwich with Tarragon-Mayonnaise
Ingredients
3 tablespoons peanut or vegetable oil
2 6-ounce tilapia fillets, or other white fish fillets
salt&black; pepper
1/4 cup all-purpose flour
1 egg, beaten
1/2 cup Panko breadcrumbs (or other dried breadcrumbs)
2 large Kaiser rolls
1 tomato, sliced
2 thin slices mild onion
2 lettuce leaves
Ingredients: Tarragon-Mayonnaise
1/4 cup mayonnaise
2 tablespoons catsup
1 to 2 teaspoons lemon juice, to taste
2 teaspoons fresh tarragon leaves, finely chopped
Heat the oil over medium heat in a skillet large enough to hold the fish fillets. Sprinkle the fillets with salt and pepper and dredge them in the flour, shaking off the excess. Dip the fillets into the beaten egg, drain off excess and coat them generously with the breadcrumbs. When the oil is hot, place the fillets in the skillet and cook for 2 to 3 minutes each side, until the topping is lightly browned and the fish flakes easily when pierced with a fork. Drain the fillets briefly on paper towels.
Tarragon-Mayonnaise: Place all ingredients in a small bowl and stir to combine.
Cut the Kaiser rolls in half and spread some of the Tarragon-Mayonnaise on the cut sides of each roll. Place the rolls cut side up on a baking sheet and toast under the oven-broiler, about 1 minute. Place each fish fillet on the bottom half of the rolls. Top the fillets with a dollop of the Tarragon-Mayonnaise, arrange the sliced tomato, onion and lettuce on the sandwiches. Cover with top portions of the rolls and serve immediately. Serves 2.
Shrimp Po' Boys
2 gallons peanut oil
1/2 cup coarse-ground cornmeal
1 cup all-purpose flour
2 teaspoons kosher salt, divided
1 teaspoon cayenne pepper
1-1/2 pounds medium shrimp, peeled, deveined and tails removed
1/3 cup mayonnaise
3 tablespoons grainy mustard
1 tablespoon fresh lemon juice
4 (8-inch) pieces baguette
4 lettuce leave
4 thin slices red onion
8 (1/4-inch-thick tomato slices)
Pour oil into a large deep fryer; heat to 350 degrees. Combine cornmeal, flour, 1-1/2 teaspoons salt and pepper in a shallow dish, stirring well. Dredge shrimp in cornmeal mixture. Fry shrimp at 350 degrees for 4 minutes or until done. Remove shrimp and drain well on paper towels.
Combine remaining 1/2 teaspoon salt, mayonnaise, mustard and lemon juice, stirring well. Spread about 1 tablespoon mayonnaise mixture over cut sides of bread slices. Place one lettuce leaf on the bottom half of each bread slice; top with one red onion slice and two tomato slices. Season tomatoes with salt and pepper, if desired. Divide shrimp evenly among sandwiches; place top halves of the bread slices on each. Cut sandwiches in half. Serve immediately.
- Recipe from Luckie Strategic Public Relations
Crawfish Pies
2-1/2 gallons plus 2 tablespoons peanut oil
1/3 cup chopped onion
1/3 cup chopped green bell pepper
1/4 cup chopped celery
2 garlic cloves, minced
1/2 dry white wine
1 (8-ounce) package cream cheese, softened
3 tablespoons all-purpose flour
1 tablespoon fresh lemon juice
1-1/2 teaspoons salt
2 teaspoons hot sauce
1 (1-pound) package frozen crawfish tail meat, thawed
1 (15-ounce) package refrigerated 9-inch pie crust
Pour 2 1/2 gallons oil in a deep fryer; heat to 375 degrees. Heat remaining two tablespoons oil in a large saute pan over medium-high heat. Add onion, bell pepper and celery to pan; saute 3 minutes. Add garlic; saute 1 minute. Stir in wine; cook 1 minute or until liquid almost evaporates. Combine vegetable mixture, cream cheese and next four ingredients, stirring well. Fold crawfish into cheese mixture, stirring to combine. Cut each (9-inch) pie crust in half to form four semicircles. Using a slotted spoon, place about one cup crawfish mixture in the center of each crust half; fold edges over, pressing to seal. Crimp edges with a fork. Fry pies at 375 degrees for five minutes or until golden, turning once. Serve immediately.
- Recipe from Luckie Strategic Public Relations
Copyright 2018 The Lawrence Journal-World. All rights reserved. This material may not be published, broadcast, rewritten or redistributed. We strive to uphold our values for every story published.