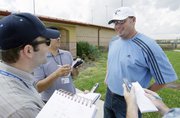 KISSIMMEE, FLA. — Roger Clemens arrived at the Houston Astros' minor-league clubhouse on Tuesday and walked straight to a fenced-in bullpen to greet his oldest son, Koby, a catcher in the Astros' system.
He snapped at a photographer who started clicking pictures.
"This isn't a zoo!" Clemens barked.
The seven-time Cy Young Award winner was calmer a few minutes later, but refused to answer questions about the Mitchell Report or a possible criminal investigation into his denials of steroid use.
"Everything's been said that needs to be said on that," Clemens said. "We're moving forward. It's baseball time."
Clemens thinks the public is tired of hearing about performance-enhancing drugs in the sport. He sure is.
"I think you ought to be asking baseball questions," he said.
Copyright 2018 The Lawrence Journal-World. All rights reserved. This material may not be published, broadcast, rewritten or redistributed. We strive to uphold our values for every story published.