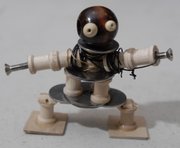 A Spencer Museum of Art exhibit was brought to life Wednesday with wire, wood and the imaginations of junior high students.
Jessica Johnson, youth education outreach coordinator for the museum, provided students with art materials to create their own versions of abstract work by Russian artist El Lissitzky.
The 19th century artist's work is on exhibit at the museum. He is known for geometric shapes that depict the future of machines.
"It's a great opportunity to be able to take what's in the museum and be able to bring it outside the museum walls and use that with the kids in a way they may not necessarily get to see or get to experience in the museum," Johnson said. "They can look at the art, be inspired by it and then create something as well."
A turtle, airplane, bicycle and monster were among the young people's creations.
Ian Schneck, 13, made a car. Wednesday was his first visit to the after-school program. His friends gave it a good review, and he did, too, after participating in the art project.
"It's pretty awesome that it's free and you can make a bunch of stuff," he said.
About 50 students attend the after-school program weekly. The program is hosted by the GaDuGi Safe Center to provide a safe place for students to be creative and relax on early-dismissal Wednesdays. Local businesses and organizations provide activities.
Wednesdays at Liberty Hall has been funded through a two-year Community Impact Grant, which has now expired. The center is seeking financial support or volunteers to continue its program. If you're interested in helping, call the GaDuGi Safe Center at 843-8985.
Copyright 2018 The Lawrence Journal-World. All rights reserved. This material may not be published, broadcast, rewritten or redistributed. We strive to uphold our values for every story published.