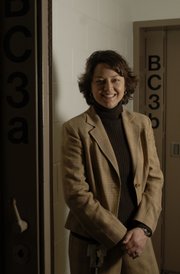 If all goes as planned, more than a dozen inmates in Douglas County Jail will have an easier time adjusting to life on the outside when it comes time for their release.
Eighteen inmates are going through the last phase of eligibility assessments under a new transitional services and re-entry program launched last month. It's headed by Shannon Murphy, who is the re-entry director in her one-person department. Murphy spent the past 12 years working for Douglas County Community Corrections and left as the deputy director.
"I've got a big challenge ahead of me," Murphy said of the job she started Jan. 28.
Murphy was picked from among several candidates, Sheriff Ken McGovern said.
"She's worked with the courts and has the knowledge of working with attorneys and inmates that she's already dealt with," McGovern said.
The sheriff's office has been working on developing the re-entry program for more than a year. Its purpose is to identify gaps former inmates face when they are released. Examples of those gaps include an inability to find housing and jobs right away. There also are time lapses in how soon they can continue health, mental health and substance abuse treatments they may have started while in jail.
"Whatever services and appointments they need will be set up directly so there is not a gap, so they don't fall through before they start those services," Murphy said.
It is hoped that before they are released, inmates will have at least met the people they will be working with on the outside, Murphy said.
If former inmates get the services they need in a timely fashion, they will be less likely to revert to their old ways, Murphy and McGovern said.
The program's focus is on repeat offenders.
"We're looking for those who have been in (jail) several times and see if we can target some risks and needs that may have been overlooked," Murphy said.
The inmate's attitude is also important, she said.
"Thinking errors are always a huge issue, and I think it's been an overlooked aspect in general in the criminal justice arena," she said. "Do they have the tools to even handle their mental health and addiction issues? That's going to be important."
The long-range goal is to reduce recidivism - the tendency to repeat criminal behavior - and the growing number of offenders sent to jail. It could delay the need for expanding the jail.
It will take time to establish the re-entry program and change the attitudes of offenders, said Ken Massey, undersheriff in charge of the jail. It could be a year or more before real progress is seen, he said. But Massey said similar programs have worked elsewhere.
"It's going to be a slow process," he said.
Copyright 2018 The Lawrence Journal-World. All rights reserved. This material may not be published, broadcast, rewritten or redistributed. We strive to uphold our values for every story published.