Photo Gallery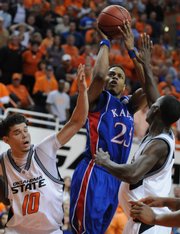 KU vs. OSU
On the street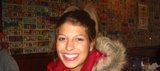 I'm going to have to say Darnell Jackson. He has really stepped up as one of our big guys. He's reliable on offense and defense and makes things happen when needed.
Stillwater, Okla. — Amid a small cluster of recorders and notebooks outside the Kansas University locker room, senior guard Rodrick Stewart glanced to his left to see Darnell Jackson with an unusual expression.
At least, one that's unusual of late.
"That's the first time I've seen him smile since the whole incident with his family," Stewart said following KU's 61-60 loss Saturday to Oklahoma State, when Jackson's spirits obviously were buoyed thanks to his family's visit to Gallagher-Iba Arena. "It's just an unfortunate situation, but it's a part of life, I guess."
Both Jayhawks are grieving together, each having suffered from a family tragedy in the past week. Stewart's 21-year-old brother, Allen, was murdered Wednesday in Seattle. Jackson, whose family struggles over the past couple of years have been well documented, is dealing with the murder of his 19-year-old cousin. Kascey Corie McClellan died Wednesday due to gunshot wounds sustained in a Feb. 9 nightclub incident in Jackson's hometown of Oklahoma City.
"Darnell has definitely helped, man," Stewart said. "He's one of those guys, he's been through a lot, man. ... Darnell's going through the same thing. It's easy for me to talk to Darnell, because he can relate to the same thing I'm going through, because it's his cousin."
Stewart played 11 minutes while KU battled foul trouble for much of the afternoon. He was 0-for-1 from the floor, with his only other mark on the stat sheet being a defensive rebound.
"It was hard, man," Stewart continued. "Just trying to stay focused, my head was not in it today, I'm gonna be real. I was trying my best I could when I was out there, but anytime one of your family members loses their life, it's hard to try to put that aside and focus on a game. It was hard, though."
Fighting off emotions is something Stewart won't have to attempt in uniform when the Jayhawks next take the floor Wednesday night in Ames, Iowa.
He will fly to Seattle today to be with his family, remaining there for the funeral, which will take place Wednesday.
"(My teammates have) been helpful, man, making sure to keep me laughing, stuff like that," Stewart said. "All the guys have been checking on me."
The support surely won't stop after Stewart returns to the team Wednesday.
"I knew it was going to be hard to put behind me, because that's my brother, man," Stewart added. "These are my teammates, too. I look at them like family, too. If anything happened to them, it'd be hard to try to put that aside and go out there and play a game. I tried to do that as much as I could, but my emotions started getting the best of me when I was out there.
"There's only so much you could do, really. I've got to go watch my brother get buried Wednesday."
Copyright 2018 The Lawrence Journal-World. All rights reserved. This material may not be published, broadcast, rewritten or redistributed. We strive to uphold our values for every story published.