Sometimes, even reading a million bridal magazines can't prepare you for what's supposed to be the biggest day of your life.
So we asked two recent Lawrence brides for things they learned during their wedding experience, in order to pass on their wisdom to prospective brides.
Here's what they wrote for us.
Megan Bost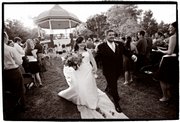 ¢ Your bridesmaids are people you care about - make them look good. We chose simple black dresses from J. Crew and got so many compliments. They looked great on, in the photos, and two girls have already worn theirs to other events.
¢ Check to see what flowers will be in season at the time of your wedding. Our florist used flowers from my color palette that she had in stock and in bloom. They looked beautiful, and I loved how they represented what the Kansas flora was at that time.
¢ Pick your battles. If the groom wants to walk into the reception to the "Sopranos" theme song, then do it.
¢ Even though it might have been more expensive, it was worth it to have the reception at a location that had everything on site (food, linens, dishware, etc.) as opposed to coordinating various venders. This saved many hours of stress and planning.
¢ Write thank-you notes after each shower/party. We ended up sending people multiple notes for several events, but the thanks were timely, and we didn't feel overwhelmed after the wedding.
¢ Wait a few weeks/months to go on a honeymoon. It was nice to relax with lingering out-of-town family and friends after the wedding, and the wait between the two anticipated events made the honeymoon even better (especially if you have already gone back to work).
¢ If you plan on having kids or pets involved in the wedding, be prepared for the unexpected and imperfect. Our nephew was ring bearer and walked down the aisle with pacifier in mouth and sippy cup in hand. Our dog stood with the best man and broke free during the vows. He ran around and licked a few guests before being corralled. While others may have been upset at these imperfections, these are some of our best memories and really represent our lives.
Shannon Rasmussen
¢ Focus on the marriage, not just the wedding. Remember that the wedding is just one event, but the marriage is for a lifetime.
¢ Plan for yourselves. Don't let someone else take over the plans for the union that the two of you want. Also, pick the readings, music or other parts of the ceremony together, for it will be a part of both of you.
¢ Develop routines even before marriage. Cook together, sit down and have real meals together, and even do the dishes together. We learned much more about each other during that time. In doing the dishes, we also learned that we did them differently. Neither way was wrong, but it helped us learn to accept our differences. Establishing the routines early also helps you adjust when you get married.
¢ Live in your own place before marriage. Set yourselves a "curfew," and stick with it.
¢ Take a marriage-prep class or engaged couples' retreat. Go into it with an open mind. If there are things that you need to talk about, this is the time. Be open and honest with each other, and don't just say what you think the other wants to hear.
¢ Spend time with other friends. Be appreciative of the other friendships that you have. Go out with the girls, or get a big group together of both your sets of friends. This also gives your friends the opportunity to offer their assistance with the wedding.
¢ Take an NFP class. Taking this NFP (Natural Family Planning) class helps you live a lifestyle of strong communication. Don't be afraid to share the most personal information about your sexuality. If you can talk about that, every other topic is easy.
¢ Work from a budget. You don't need to run yourselves into debt for the wedding before your life together even begins. Working from our budget also helped us develop financial discussions early in the relationship.
¢ Pray together. Again, being honest and open in what you are praying for individually or together is another form of communication. It also really seems to reduce the stress level, especially as THE day gets closer. Pray for grace to fill your marriage, and you will be well-blessed.
¢ Spend your money wisely for the wedding. Don't feel responsible for spending extravagantly on the wedding. Here are a few of our money-saving tips:
¢ Make your own wedding cake. (We made cheese cake for about 1/3 the cost.)
¢ Have a simple invitation that weighs less than 1 ounce. Otherwise, you'll need two stamps per invitation. Making and copying the invitation is usually cheaper than having them professionally made. The traditional double-envelope can sometimes add too much weight as well. We also used a post card as an RSVP.
¢ Look for wedding sales in advance. Hobby Lobby has wedding supplies on sale every few weeks, and finding a wedding dress on sale is also a plus! (David's Bridal has dresses as low as $99.)
¢ If it costs too much, don't plan a full meal. Guests can be content if you just give them punch and cake.
¢ Order the flowers, but put the corsages, boutonnieres, and bouquets together yourself ... or with a group of friends the day before the wedding. This costs about 25 percent of a florist's total. Practice in advance but with the actual kind of flowers. Choose simple, inexpensive, but colorful flowers.
¢ Spend wisely so as to put more money into something that is really important. For us, that was finding a good photographer. Randy Edmonds, a local photographer, does extraordinary work with reasonable prices.
¢ Find inexpensive gifts. Our party favors were seed packets because we both love to garden, but the packets were rather cheap. Also, the thank you gifts for those that are involved in the wedding can be handmade.
Melissa Van Horn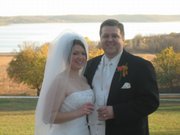 1. Find a good DJ who understands how important it is to play a variety of songs so that everyone may dance.
2. As soon as the date is determined, make sure to block hotel rooms at your choice hotel, especially if it is a weekend of a KU game!
3. Make sure to slow down and enjoy the process. It will go by quickly.
4. Let your fiance be as involved as he wants to be. Sometimes the men do have good ideas, too!
5. Understand that there will be bumps along the way and everything may not turn out the way you had envisioned, but at the end of the day you will be husband and wife - and that's all that matters.
Copyright 2018 The Lawrence Journal-World. All rights reserved. This material may not be published, broadcast, rewritten or redistributed. We strive to uphold our values for every story published.