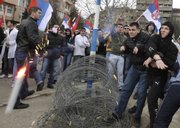 Kosovska Mitrovica, Kosovo — Violent protests rocked Serb-dominated northern Kosovo on Friday, as mobs chanting "Kosovo is ours!" hurled stones, bottles and firecrackers at U.N. police guarding a bridge that divides Serbs from ethnic Albanians.
The scenes evoked memories of the carnage unleashed by former Serb autocrat Slobodan Milosevic the last time Kosovo tried to break away from Serbia, which considers the territory its ancestral homeland.
There were disturbing signs the riots in Belgrade, Serbia and Mitrovica have the blessing of nationalists in the Serbian government. The government hopes somehow to undo the loss of the beloved province, the site of an epic battle between Serbs and Turks in 1389.
Prime Minister Vojislav Kostunica's authorities have repeatedly vowed to reclaim the land, despite U.S. and other Western recognition of Kosovo's statehood. Some hard-line government ministers have praised the violent protests as "legitimate" - and in line with government policies of retaining control over Serb-populated areas.
In Washington, Secretary of State Condoleezza Rice said it was time for Serbs to accept that Kosovo is no longer theirs. She also suggested it was time to drop centuries of grievance and sentimentality in the Balkans.
"We believe that the resolution of Kosovo's status will really, finally, let the Balkans begin to put its terrible history behind it," Rice said Friday. "I mean, after all, we're talking about something from 1389 - 1389! It's time to move forward."
Serbian President Boris Tadic called an emergency meeting of the national security council and said the rioting that engulfed the capital must "never happen again."
"I most sharply condemn the violence, looting and arson," Tadic said in a statement. "There is no excuse for the violence. Nobody can justify what happened yesterday."
Kosovo's ethnic Albanian leaders declared independence from Serbia on Sunday. The province, which is 90 percent ethnic Albanian, has not been under Serbia's control since 1999, when NATO launched airstrikes to halt a Serbian crackdown on ethnic Albanian separatists. A U.N. mission has governed Kosovo since.
The U.S. ambassador to Serbia demanded that authorities do more to guarantee the safety of foreign diplomatic missions after nationalists in Belgrade set fire to the U.S. Embassy in riots Thursday that left one dead and more than 150 injured.
The State Department ordered nonessential diplomats and the families of all American personnel at the embassy to leave Serbia after the attack.
In his first post-independence interview, Kosovo's prime minister told The Associated Press that the violence is reminiscent of the Milosevic era.
"The pictures of yesterday in Belgrade were pictures of Milosevic's time," said Hasim Thaci, a former guerrilla leader of the disbanded Kosovo Liberation Army, said at his office in Pristina, the capital. "What we saw were terrible things."
Copyright 2018 The Associated Press. All rights reserved. This material may not be published, broadcast, rewritten or redistributed. We strive to uphold our values for every story published.