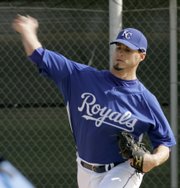 Surprise, Ariz. — Nobody in Kansas City has more reason than Gil Meche to celebrate the arrival of free-agent slugger Jose Guillen.
Finally, some muscles will start flexing and stretching in the meat of the Royals' run-starved lineup, a guy who's hit at least 20 home runs in four of the past five years.
It sounds like an offensive windfall to Meche, who last year bore the frustrating distinction of being the least-supported starting pitcher in the American League.
But he bore it with great dignity. Not once was the tall right-hander heard to mutter a single complaint while his teammates yoked a mediocre 9-13 record around a 3.67 earned-run average - the best by a Kansas City starter in a decade.
"I want to win, no doubt about it," Meche said. "But I think I did it the right way. I'm not going to be a guy who's going to be vocal and try to upset our hitters. Like I've said many times, this is the big leagues. Guys were trying."
Nevertheless, his support of 3.92 runs per nine innings was the worst in the league and the fourth-worst in the majors. Altogether while he was on the mound in his 13 losses, the Royals scored a puny dozen runs.
"It's kind of how my whole season went, and I totally understand that," he said. "Nine wins wasn't what I wanted. But I kept us in as many games as I could. I'm sure the same thing will happen a little this year. But with Guillen in our lineup, that will change the way pitchers will go at our hitters."
In many ways, 2007 was a transition season for the 28-year-old Meche. He needed to prove the Royals spent wisely in bringing him from Seattle and he had to demonstrate he was worthy of being the No. 1 starter on a staff.
He achieved both goals, admirably, and now the Royals are hoping he'll take the next step and make 2008 a breakthrough year.
The stage could be set. He's in his physical prime. He's fully healthy. He's confident.
Copyright 2018 The Associated Press. All rights reserved. This material may not be published, broadcast, rewritten or redistributed. We strive to uphold our values for every story published.