Photo Gallery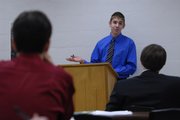 Forensics
The words will come rolling off the tongues of students again today at Lawrence High School.
The school's forensics team is hosting more than a dozen area squads, including Free State High School, in a tournament that began Friday afternoon.
"We're just kind of making sure the whole thing goes smoothly," said Laura Williams, LHS senior.
She and her teammates are left to organizing their home tournament instead of competing, which is common in forensics.
But the LHS forensics team will get an opportunity to take the stage in Lawrence next weekend at Free State when the schools' roles are reversed.
The LHS students and their coach, Kim O'Brien, have helped to round up hundreds of volunteer judges from the Lawrence area to pull off the weekend.
"Anybody who is a part of it is doing a service for the kids," O'Brien said.
The students who will compete have a chance to try 11 different speaking and acting events.
Forensics team members say there's no secret on how to succeed at these tournaments.
"People need to have confidence and speak really well," said LHS senior Trudy Curley.
O'Brien said forensics competitors can apply their experiences beyond these tournaments.
"It teaches students 'the responsibility of making sure that I'm understood correctly is entirely mine.' It's a valuable life skill," she said.
Copyright 2018 The Lawrence Journal-World. All rights reserved. This material may not be published, broadcast, rewritten or redistributed. We strive to uphold our values for every story published.