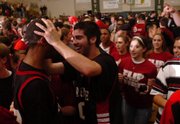 Hoops history
The following is a game-by-game look at the 23-game boys basketball history of Lawrence High vs. Free State:
1997-98
Lawrence 83, Free State 52 at FSHS
1998-99
Free State 62, Lawrence 53 at FSHS
Free State 73, Lawrence 58 at LHS
1999-2000
Lawrence 51, Free State 44 at LHS
Free State 68, Lawrence 53 at FSHS
2000-01
Free State 63, Lawrence 55 at FSHS
Lawrence 68, Free State 48 at LHS
Free State 53, Lawrence 51, OT at LHS
2001-02
Lawrence 53, Free State 44 at LHS
Free State 64, Lawrence 57 at FSHS
2002-03
Free State 61, Lawrence 45 at FSHS
Free State 51, Lawrence 50 at LHS
2003-04
Free State 110, Lawrence 65 at FSHS
Free State 79, Lawrence 73 at Topeka
Lawrence 77, Free State 69 at LHS
Free State 76, Lawrence 73 at FSHS
2004-05
Free State 59, Lawrence 48 at LHS
Lawrence 44, Free State 42 at FSHS
2005-06
Free State 58, Lawrence 54 at LHS
Free State 56, Lawrence 49 at FSHS
2006-07
Lawrence 43, Free State 42 at FSHS
Lawrence 66, Free State 59 at LHS
2007-08
Free State 71, Lawrence 64 at LHS
7 p.m. Friday at FSHS
Even after 10 seasons, 23 meetings and four different head coaches, the same games seem to crawl to the forefront of the boys basketball rivalry between Lawrence High and Free State.
After playing just one time during the 1997-98 season - Free State's first year of existence - administrators at both schools quickly realized the excitement and atmosphere produced by this game was too good to experience just once a year.
The Firebirds and Lions have played at least twice per season since then, with this season's second matchup set for 7:30 p.m. Friday.
Throughout the years, several big-name players and memorable moments have made their way into this rivalry's lore, but for the coaches involved, a few games stand out more than the others.
"If you play sports, the reason you play is for a game like this," LHS coach Chris Davis said. "Those games are more powerful than any other game we play. They're bigger than state tournament games. You've got it all on the line right there. How can it get any better than that?"
Free State currently leads the all-time series, 15-8, but, according to those who have been there every step of the way, the schools are dead even in terms of the memories they've created.
Lawrence High won the first-ever game between the two schools in 1997, and Free State followed by winning four of the next five. But the first truly meaningful game the two played came in March of 2001.
March 3, 2001 - Free State 53, Lawrence High 51 - at LHS
This was sub-state championship battle between the fourth-seeded Lions (15-6) and eighth-seeded Firebirds (10-11).
The game took place at LHS and featured a highly talented Lions squad against an upstart Free State team fresh off its surprising victory over Wayne Simien's top-seeded Leavenworth team in round one.
Simien missed most of the Free State game after reinjuring a shoulder on the first play of the game. That set up the showdown between the two city schools for the right to go to state.
FSHS sophomore Keith Wooden, now a senior at the University of North Texas, cashed two free throws with five seconds to play to give the Firebirds a 53-51 victory.
"That was the toughest one to take," said Davis, who was in his first season as the Lions head coach during that game. "Everything was on the line and it was in our gym. That only made it harder."
Feb. 25, 2003 - FSHS 51, LHS 50, OT - at LHS
Two years later, in the same gym, Lawrence High fell victim to another batch of late-game heroics by the Firebirds. This time it was another Free State sophomore who threw the dagger.
Lawrence High, which was led inside by the play of current Kansas University running back Brandon McAnderson, nursed a small lead for much of the fourth quarter but saw it disappear when Free State's Dain Dillingham hit a bucket late to send the game into overtime.
Dillingham's shot was huge, but it will always rank second on the list of those most remembered from this one.
With time winding down, Morningstar drove the lane looking for the tie but missed. Play stopped when McAnderson was whistled for his fifth foul while battling Wooden for the rebound. Wooden stepped to the free-throw line with the chance to tie, but missed the first, setting up Morningstar's heroics.
Senior Cameron Karlin tipped the rebound to Bijai Jones, who kicked to Dillingham at the top of the key. Without hesitating, Dillingham fired a pass to Morningstar, who buried a three-pointer from the corner for the victory.
"The crazy thing about that play was that nine times out of 10 either one of those guys (Jones or Dillingham) would've taken the shot," former Free State coach Jack Schreiner said. "For some reason, though, they both passed and we won the game."
March 4, 2004 - Free State 76, Lawrence High 73 - at FSHS
The following season, Free State and Lawrence High locked horns four times, meeting for both of their regularly scheduled games, as well as once in the third-place game of the Topeka Tournament and once in the first round of sub-state.
The Firebirds won the first two, including a 110-65 victory during the fifth game of the season - a game that still represents the highest point total by either team, the highest combined point total by both teams and the largest margin of victory in the series.
The Lions bounced back to win Game 3, setting up a fourth and final meeting in the first round of sub-state.
In yet another see-saw affair, Morningstar set a school record with 34 points.
February 5, 2005 - Lawrence High 44, Free State 42 - at FSHS
In what has to be considered the biggest upset in series history, Lawrence High went toe-to-toe with the top-ranked team in the state and won.
Led by Brennan Bechard, David Freeman and Chance Riley, the Lions built a nine-point lead through three quarters and completely frustrated the top-ranked Firebirds. FSHS's Morningstar, who earlier in the season had a follow dunk that ignited the lifeless Firebirds and led to a 59-48 Free State victory in the season's first match-up, finished with 17 points but struggled to get the ball in rhythm.
"That was one of the most exciting games," Davis said. "One where I look back on it and just go, 'Wow.'" It was a defining moment for our team - stand up and stick your chest out and play with the No. 1 team in the state."
Dec. 21, 2006 - Lawrence High 43, Free State 42 - at FSHS
If the game in 2005 was the biggest upset in series history, the December game in 2006 had to be the most memorable comeback.
The Firebirds managed to hang on to a slim lead for much of the fourth, but saw it disappear completely when Daniel Green drained a three-pointer in front of the Lions' bench to tie the game at 42 apiece with six seconds remaining.
On the next possession, LHS senior Nathan Padia stole a pass and was fouled as he raced down the floor.
Padia hit the first free throw, missed the next on purpose and the Lions walked away with the victory.
It was the night current LHS star Dorian Green broke onto the high school scene.
Copyright 2018 The Lawrence Journal-World. All rights reserved. This material may not be published, broadcast, rewritten or redistributed. We strive to uphold our values for every story published.