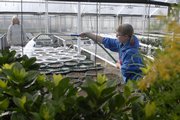 Last year, I wrote a piece that explored the various nurseries on the outskirts of Lawrence.
This year, I thought we should give the nurseries inside the city limits their fair share of press by explaining what to expect at each nursery, what they specialize in and how to best fulfill your gardening needs without having to run all over town to get the job done right.
There are only four full-service nurseries in town and then a handful of grocers and hardware stores that provide some gardening plants and tools. The four nurseries that do cater to green-thumb enthusiasts are as good as it gets with selection, new varieties, ideas and knowledgeable staffs. They have set up shop to make Lawrence a more beautiful city by providing growing gurus and novices alike the flora to beguile and inspire us all.
Clinton Parkway Nursery
4900 Clinton Parkway
Clinton Parkway Nursery is a fantastic place, nestled atop a hill out in western Lawrence. When the nursery was first built and opened for business, it was more or less the only retail space in a mile radius, and it had a clear view of the lake and a smattering of traffic heading out for a day of boating.
In 2008, apartment buildings, luxurious homes, restaurants, retail shops and cars are abuzz around Clinton Parkway Nursery. Ann Peuser, nursery owner, had wonderful foresight when she purchased the land, for now she is in a hub of activity. Peuser's favorite flora are trees and shrubs, making Clinton Parkway Nursery a smart place to shop if that is what you are in the market for.
"We specialize in trees and shrubs, and if we don't have it, I can get a lot of unusual and unique items," Peuser says. "I've (gravitated) toward this because I'm not as much of a flower person. But we are hopefully a one-stop shop. Our goal is to have everything you want, from the ideas to the products."
Earl May Nursery
3200 Iowa
Earl May Nursery has been at the same location in Lawrence for ages, again a situation of great foresight. The hustle and bustle of big-box stores has exploded around the vibrant nursery, making its corner location a coveted one.
The store has remodeled this winter. The walls are all color-coded and categorized to make finding your items as effortless as possible, and the shades of primary colors make the store look new.
The 5,000-square-foot showroom is inviting, full of everything from pottery to garden wands and houseplants. The outdoor nursery is around 12,000 square feet of not only a wide array of plant selections but also patio furnishings, gifts for gardeners and trinkets.
Manager Darrel Helling says this of why gardeners might shop there: "We have a very friendly staff. We carry a huge selection of seeds, even organic seeds. We also have a vast pottery department, and we dabble a bit in water gardening equipment as well as fountains and custom container gardening."
The nursery cuts back on their hours in the winter, but it is open and available for purchasing houseplants, getting inspired for the upcoming gardening season, possibly restocking the bird feeders with their large supply of birdseeds or just getting out of the cold to hear the gurgling of water bounce off the bright cheerful walls.
Howard Pine's Garden Center
1320 N. Third St.
While Howard Pine's isn't open in the winter, don't think they are not busy. They are sowing, watering, coddling and potting like crazy.
"I find it most appealing that the plants from our greenhouse begin here as small seeds or cuttings, where we care for them until they are mature plants ready for sale," says Christine Elliott, assistant manager. "We don't receive large shipments of plants that are ready to be sold. So, a lot of time and care goes into the process, but it results in a higher-quality plant."
I've purchased quite a few hanging baskets billowing over with colorful annuals from Howard Pine's throughout the years, and I've always found the product to be well-put-together and long-lasting. The sales staff is quite friendly.
The selection of annuals is always very strong. Elliott is quite proud of their native selection.
"We specialize in plants that are meant for Kansas," she says. "They require the least amount of maintenance and can withstand harsh Kansas conditions. When you stick to plants that are in their ideal environment, you will reap the beautiful rewards with less work."
The showroom is receiving a face-lift in the hopes of making the space more inviting and warmer with more displays and new merchandise. The staff at Howard Pine's will also provide shoppers with an assortment of information sheets compiled by Kansas State University's horticulture department on specific plants to aid you in ensuring the most success with the flora purchased.
Sunrise Garden Center
1501 Learnard Ave.
Another nursery that is an institution in Lawrence is Sunrise Garden Center, which has gone through a couple of owners and names but has been at the same location and provided the same reliable service with each transition.
One of the loveliest aspects of this nursery is the greenhouse, open all year as a respite with giant houseplants, flowering orchids and that fresh rainforest smell sure to shake away the winter doldrums.
Their selection of annuals, perennials, trees, shrubs and herbs is always exquisite, and the staff is knowledgeable. One of the most appealing attributes that the garden center boasts is the showroom, overflowing with garden pots, sculptures, trinkets and ideas. It is generally whimsical, flirty and constantly changing, a real delight if you are shopping for that perfect gift for a gardener or really anyone.
Another steadfast characteristic of this nursery is that it tends to carry the unique and unusual plants that you're not going to find anywhere else in town. From orange trees to tropical delights, it is really something to marvel at the many choices that Sunrise has to offer a garden enthusiast.
Other locations
While the following retailers do not specialize in horticulture, they also are viable options to address your gardening needs:
¢ Dillons: 4701 W. Sixth St., 1015 W. 23rd St., 1740 Mass. and 3000 W. Sixth St. In the last few years I've noticed that Dillons has scaled back the outdoor nurseries, but they do have a few rows of annuals and herbs set up right outside of the store - certainly a convenience.
¢ Hy-Vee Food & Drug Store: 4000 W. Sixth St. and 3504 Clinton Parkway. Hy-Vee has expanded its selection of annuals, perennials and herbs in recent years. During the growing season, the retailer erects giant tents with large pallets of plants surrounding them. The selection of annuals in particular is always quite good, and I have had success with them.
¢ Westlake Hardware: 711 W. 23rd St. and 601 Kasold Drive. Westlake does a good job at providing the basics. In fact, their grass seed, fertilizers, pesticides, tools and general accouterments that go with various gardening chores is quite robust, and you will most likely find just what you need.
Copyright 2018 The Lawrence Journal-World. All rights reserved. This material may not be published, broadcast, rewritten or redistributed. We strive to uphold our values for every story published.