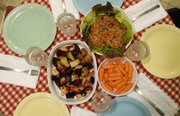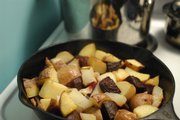 Past Event
When: Tuesday, February 26, 2008, 6 p.m.
Where: Ecumenical Campus Ministries, 1204 Oread Ave., Lawrence
Cost: $1.25
-->
-->
Here she was again. Christmas Eve, full of cheer and friends, and Khristina Kirstatter had one meal choice: celery.
"I went to Christmas with some friends and I'm sitting there staring at this tray of chopped up meat," she says. "I think I'll have some celery ... what a great Christmas Eve meal! Mmm, celery!"
For half of Kirstatter's life, it's been this way. Eighteen years of piecing together meals from side dishes, second-guessing and repeatedly asking, "What's in that?"
But in October, the Lawrence resident found a place where she didn't have to ask, she just had to dig in. No second-guessing. Full-on entrees. Side dishes acting as second banana, not the main course. She found the VegLawrence Vegan Potluck.
Once a month - including 6 p.m. Tuesday - the group comes together at the Ecumenical Christian Ministries, 1204 Oread Ave. The potluck features dishes that are vegan, which means they contain no animals or animal byproducts.
It's an event that is perfect for Kirstatter, who has alternated between being vegan and vegetarian since her teens, when she decided to eschew the steak-and-chicken meals at her childhood home in western Kansas.
"It's super to be around people who share your same compassionate heart and know that no matter what is on the table, you can eat it, you don't have to question it or sit and pick and be annoying," says Kirstatter, 36, who has been a regular at the potlucks since they began. "I've felt a great connection with people in the group, and I think that's important. I really enjoy it."
Bonding over food
That's exactly the kind of answer Jury Carman and Ann Wilson want to hear. The Lecompton residents, both longtime vegans, began planning the potlucks with other friends as a way for vegans to meet one another, as well as a way for others to get a taste of the vegan lifestyle.
"It's open to anybody and everyone. We do not want to make anybody feel like they have to come in there and be a vegan or a vegetarian or feel ashamed or bad that they're not," says Wilson, a vegan for almost eight years. "We all started out as meat-eaters ... we've all been there, done that, and nobody needs to feel bad about where they're at.
"I mean, just the fact that they're interested in it just tickles us to no end."
At each potluck, attendees bring a vegan dish and its accompanying recipe, plus a small fee ($1.25) to the ECM. A monthly speaker or activity - this month is vegan "Jeopardy!" - is provided, as is child care. About 30 people have shown up to each potluck, some coming from Kansas City and Wichita, some knowing the organizers and some, like Kirstatter, going in completely blind.
"The first time I went, I was just interested and hopeful to meet other people whose beliefs aligned more with mine. It was really encouraging to see lots of really cool people, making it living this way," says Kirstatter, who attends with her daughter, Madeleine, 10, whom she is raising vegan. "We're kind of taught that's not the right way, socially, in our culture (to not eat meat). To buck that system, you put up with a lot from a lot of different people."
Substitution is key
But bucking the system in your own kitchen is easy, says Wilson. She insists cutting out all meat, dairy, eggs and animal byproducts really isn't that hard if you remember one word: substitution.
"I would love to send out a letter to every restaurant in town that says, 'If you're interested in more veg options, please contact me!' Because one of the ways I was able to go veg - because I loved meat so much - was substitution," Wilson says. "I still made all the chilies, spaghetti, chicken and noodles over mashed potatoes. I made all that stuff, I just substituted the faux meat and the dairy with soy milk, and the meals were fantastic."
Fantastic, Wilson says, even to non-vegans including her husband, whom she satisfies with little effort thanks to substitutions. Wilson says anyone considering going vegan or vegetarian but is worried about what they'll eat should just think differently about their favorite meals.
"I tell them to take their favorite dish and substitute, that's all you've got to do," Wilson says of people worried about elaborate planning and vegan meal preparation. "You can still make 10-minute dishes like you used to be able to."
And that sort of familiar, welcoming texture is what the organizers hope newcomers - vegan, vegetarian or omnivore - find at their potlucks.
"We want to always make people feel welcome if they're not vegan, even if they're never going to be vegan, they can still come and see what it's like," says Carman. "We're very blessed to have such a progressive, intelligent community and to live here and know that people who aren't even vegan might be interested."
Vegan recipes
Spinach Artichoke Dip
3 dollops Veganaise
3 dollops Tofutti sour cream
1/2 container Tofutti garlic and herb cream cheese
3 tablespoons vegan parmesan
1/4 cup nutritional yeast flakes
1 box frozen spinach
1 can artichoke hearts
In a medium saucepan, on medium heat, combine Veganaise, sour cream and cream cheese. Stir until creamy. Then add parmesan, nutritional yeast flakes and some juice from the artichoke hearts. Stir.
Cook the box of frozen spinach according to the directions. Drain off juice from spinach and add to saucepan. Cut artichoke hearts into small pieces, add and stir. For a thinner dip, add more artichoke juice.
Serve with tortilla chips or bread.
- Recipe from Ann Wilson
Faux Chicken and Noodles over Mashed Potatoes
For the chicken and noodles:
1 box Imagine Organic No Chicken Broth
2 packages White Wave faux chicken pieces
1 package spiral noodles
2 cups chopped celery
2 cups chopped carrots
1 cup nutritional yeast flakes
Salt and pepper to taste
Faux bacon bits (if desired)
For the mashed potatoes:
8-9 medium size Yukon Gold potatoes
Silk soy milk
Earth Balance margarine
For the chicken and noodles: In a large pot, add the full box of the No Chicken Broth and 7 cups water. Turn heat to medium-high. Add chopped celery, carrots, salt and pepper and bacon bits. Once the celery and carrots are somewhat cooked, add the "chicken" and the package of noodles. Add another cup of hot water. Cook on medium-high heat until the noodles are done. Turn down the heat and stir in nutritional yeast flakes. If you like less thick chicken and noodles, you can stop here. If you want thicker chicken and noodles, you can thicken them up by melting five tablespoons of margarine in a small skillet and stir in four tablespoons of flour. Add the mixture to the big pot and stir well.
For the mashed potatoes: Cut up the potatoes into small pieces and cook until done. When you're ready to mash the spuds, add some soy milk, margarine and salt until the desired consistency and taste.
Serve hot chicken and noodles over the mashed potatoes.
- Recipe from Ann Wilson
Toasted Coconut Cupcakes with Coffee Buttercream Frosting
For the cupcakes:
1 cup all-purpose flour
1/3 cup cocoa powder
1 1/2 teaspoons baking powder
1/4 teaspoon salt
1/4 cup coconut oil
1 cup coconut milk
3/4 cup granulated sugar
1 teaspoon vanilla extract
2 teaspoons coconut extract
1/2 cup unsweetened shredded coconut
For the frosting:
1/4 cup nonhydrogenated shortening
1/4 cup nonhydrogenated margarine, softened
2 cups confectioners' sugar
2 tablespoons coconut milk or soy milk
1-1/2 teaspoons coffee extract
1/2 teaspoon vanilla extract
1/2 cup unsweetened shredded coconut (to toast)
Chocolate-covered coffee beans (optional)
For the cupcakes: Preheat oven to 350 degrees, line muffin pan or pans with 12 cupcake liners. In a medium bowl, sift together flour, cocoa, baking powder and salt. Melt the coconut oil in a small saucepan over very low heat. Once melted, turn off the heat but leave it in the pan on the stove so that it stays warm and does not solidify. In a separate medium bowl, mix together coconut milk, sugar, vanilla and coconut extract. Stir in the melted coconut oil. Add the flour mixture in batches, beating well after each addition. Mix until smooth, then fold in the shredded coconut. Fill cupcake liners two-thirds full. Bake for 24 to 26 minutes. Transfer to a wire rack and cool completely.
For the icing: Beat the shortening and margarine together until combined well and fluffy. Alternately add the sugar and coconut milk/soy milk to the shortening mixture, beating well after each addition. Add the coffee extract and vanilla and beat until light and fluffy, about 3 minutes with a handheld mixer on low-medium speed or 5 to 7 minutes if you're using a fork. Refrigerate until ready to use.
To toast the coconut: Preheat a small frying pan over medium heat for about 2 minutes. Pour coconut into the pan and stir constantly with a spatula. The coconut will begin to turn honey brown. Keep stirring and tossing for about 90 seconds to get all the coconut evenly toasted. Turn off the heat and keep stirring and tossing for 30 seconds more. Once uniformly toasted, transfer to a plate and spread out to cool.
To assemble: Spread a generous amount of frosting on cooled cupcakes. Roll the frosted cupcakes along its rim in the toasted coconut to create a ring around the circumference. Add chocolate-covered coffee beans to the center to decorate if you wish.
- Recipe from "Vegan Cupcakes Take Over the World" by Isa Chandra Moskowitz and Terry Hope Romero
Pumpkin Chocolate Chip Cupcakes with Cinnamon Icing
For the cupcakes:
1 cup canned pumpkin
1/3 cup oil
1 cup granulated sugar
1/4 cup soy milk
1 teaspoon vanilla extract
1-1/4 cups all-purpose flour
1/2 teaspoon baking powder
1/2 teaspoon baking soda
1/2 teaspoon ground cinnamon
1/4 teaspoon salt
1/2 cup vegan chocolate chips
For the icing:
1/2 cup confectioners' sugar
1/2 teaspoon ground cinnamon
2 tablespoons margarine, melted
1 tablespoon soy milk
1/2 teaspoon vanilla extract
For the cupcakes: Preheat oven to 350 degrees. Line muffin pan or pans with 12 cupcake liners. In a medium bowl, stir together pumpkin, oil, sugar, soy milk and vanilla. Sift in the flour, baking powder, baking soda, cinnamon and salt. Stir together with a fork - don't use a handheld mixer, as it will make the batter gummy. Once well combined, fold in the chocolate chips. Fill the liners two-thirds full. Bake for 22 to 24 minutes. Transfer to a wire rack and let fully cool before icing.
For icing: Place sugar and cinnamon in a small bowl. Add the margarine, soy milk and vanilla and stir with a fork until smooth. Keep at room temperature until ready to use. The mixture should look opaque and honey brown. If it's glistening a lot or looks too liquid, add a little extra confectioners' sugar.
To assemble: Take a small plastic sandwich bag and cut out a tiny hole in one edge or fit a pastry bag with a small-holed decorating tip. Fill the bag with icing and pipe it out Jackson Pollack-style onto the cupcakes. You may also opt to pipe it in zigzags, lines or swirls. Let the icing set at room temperature or refrigerated.
- Recipe from "Vegan Cupcakes Take Over the World" by Isa Chandra Moskowitz and Terry Hope Romero
Copyright 2018 The Lawrence Journal-World. All rights reserved. This material may not be published, broadcast, rewritten or redistributed. We strive to uphold our values for every story published.