Photo Gallery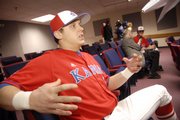 KU baseball Media Day
The NCAA tinkered with the baseball schedule just for teams like Kansas University.
Ironic, then, that KU coach Ritch Price isn't stoked about it.
The Jayhawks don't start their 2008 baseball season until Friday, when their annual series at Hawaii-Hilo gets going. It's quite a bit later than the norm - Kansas started the last two seasons in Hawaii on Feb. 1.
The reason for the late start is new NCAA legislation that requires the baseball season to start no earlier than Feb. 22, with practices starting no earlier than Feb. 1. It's designed to help negate the advantage that warm-weather schools have with outdoor workouts and games during the winter months.
But it's a flawed effort, according to many.
"I'm not a big fan of the changes," Price said Tuesday at KU baseball media day, "even though we're a cold-weather team that it's designed to supposedly benefit."
KU generally will play five games a week this season instead of the normal four. Often, that means missing mid-week classes that wouldn't be missed had the February weekends been permitted for competition. It also eliminates most of the logical make-up dates in case of inevitable rainouts.
Surviving the compact schedule, though, means to adjust for it - namely, get a lot of quality pitching built up on the roster.
With 61 regular-season games squeezed into three fewer weeks, Kansas won't have a shot at 40 victories and an NCAA Tournament berth without a lot of pitchers coming through. Especially starters.
Injuries already have made things tough. Left-hander Andy Marks is out until mid-March after having surgery in the fall to repair a torn labrum. Another hurler, freshman Jordan Jakubov, is out for the season following elbow surgery.
But Price still believes the pitching depth is better than it ever has been in his six years at KU. And it's not by luck.
"We put a four-year plan together, to try to have four freshmen, four sophomores, four juniors and four seniors on our roster," Price said. "We finally have that kind of balance."
With Marks out, the ball will go to sophomore Wally Marciel (5-3, 3.94 ERA in 2007), junior Nick Czyz (4-8, 4.60) and senior Andres Esquibel (7-3, 4.66). Two transfers - sophomore Shaeffer Hall and junior Sam Freeman - have shown a solid assortment of pitches and will be counted on as starters, as well.
"We have a lot of new guys that came in that will contribute a lot," said Marciel, who will start Friday in the season opener. "I hope they do. They're good pitchers, and in this conference and even with our tough schedule weekly, we're going to need a lot of pitching."
On the flip side, a few of KU's hitters think the late start will be beneficial for the bats, since an 0-for-4 day can be erased with another game right around the corner.
But arms wear out. And KU's job, with games shoehorned into 12 weeks for a change, is to make sure it has enough to survive.
"For the first time, we do," Price said. "In the past, we couldn't have played five games a week. We didn't have that kind of depth."
Copyright 2018 The Lawrence Journal-World. All rights reserved. This material may not be published, broadcast, rewritten or redistributed. We strive to uphold our values for every story published.