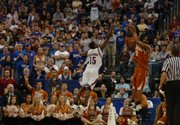 It's one of the most exciting situations in college basketball: tie game, 10 seconds left, crunch time.
When the pressure mounts, who will take the final shot?
Here's a list of the Big 12 players best suited to take the game winner, based on their performances this season:
Michael Beasley, Kansas State
This answer took about 0.1 seconds to formulate. The Wildcats freshman had no problem dominating the first Big 12 game of his career against Oklahoma with 32 points and 11 rebounds. He also displayed his ability to hit the clutch shot when he made the game-winner with 2.3 seconds left.
Beasley was also a primary reason Kansas State defeated Kansas for the first time in 24 years in Manhattan.
He then embarrassed Missouri when he scored 40 points and grabbed 17 boards Saturday when K-State hung 100 on MU.
Bottom line: The consensus best player in the Big 12 and arguably the nation; leads the conference with 25.7 points and 12.6 rebounds per game; could give the conference two NCAA Player of the Year awards in two years (Texas' Kevin Durant won it last year); practically a shoo-in for the No. 1 overall pick in next year's NBA Draft.
Mario Chalmers, Kansas
Chalmers temporarily took the attention away from USC standout freshman O.J. Mayo on Dec. 2 with his game-ending three-pointer, which gave KU a 59-55 victory in Los Angeles.
The Jayhawks displayed their faith in the junior guard as their go-to guy again Feb. 11 in Austin, Texas, against the Longhorns. Kansas may have lost, 72-69, but it looked to Chalmers on the final two possessions.
Bottom line: A multipurpose threat; has the speed to drive past defenders and get in the paint, but can also create space to pull up for threes, as evidenced in Austin.
D.J. Augustin, Texas
The clutch-o-meter on Augustin is unusually high for a sophomore. The New Orleans native certainly doesn't play like an underclassman. Iowa State found out the hard way when Augustin drained a game-clinching jump shot with 38 seconds left in overtime on Feb. 9 in Ames, Iowa.
If you're not sold on that performance, Augustin scored UT's final 10 points in a 63-61 come-from-behind victory at Oklahoma State on Jan. 21.
Bottom line: The second-leading scorer in the Big 12 with 19.2 points per game; could play in the NBA after this year; almost T.J. Ford's clone, but a better scorer.
Curtis Jerrells, Baylor
The Bears found their prime-time player in Jerrells, who scored 36 points in Baylor's five-overtime victory against Texas A&M; on Jan. 23.
In one of the wildest games since Texas and Oklahoma State went to triple overtime last season, Jerrells single-handedly scored as many points as Texas A&M; (11) in the final overtime.
Bottom line: He may not have a game-winner on his resume, but there's no question who's getting the ball when Baylor needs a bucket in crunch time.
Bill Walker, Kansas State
The problem with double-teaming Beasley is the fact that Walker is nearly as lethal.
There's no denying his 16.4 points and 6.7 boards per contest.
Bottom line: Likely NBA-bound with Beasley after this season; would be the No. 1 option on most other Big 12 rosters.
David Godbold, Oklahoma
It doesn't get more clutch than Godbold was Saturday in Lubbock, Texas.
With the Sooners down two, Godbold stepped nine feet beyond the arc and drained a three-pointer over Texas Tech's Alan Voskuil with 1.4 seconds left.
Bottom line: May not be the No. 1 or even the No. 2 option in the Sooners offense on a possession-by-possession basis; hasn't started all games this year; with attention on Blake Griffin and Longar Longar, Godbold could see a less-defended game-winning chance in his future.
A.J. Abrams, Texas
Abrams is one of those players who makes opposing fans hold their breath when he takes a shot. He's easily the deadliest three-point shooter in the conference, with 79 threes this season. The second-highest total belongs to Texas A&M;'s Josh Carter with 60.
Bottom line: If Abrams (3.16 threes per game) launches a three at the buzzer against your favorite team, prepare for your heart to beat twice as fast as normal.
Copyright 2018 The Lawrence Journal-World. All rights reserved. This material may not be published, broadcast, rewritten or redistributed. We strive to uphold our values for every story published.