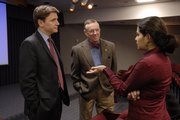 From a base in the Middle East, Al-Jazeera English is shaking up journalism in the western world and across the globe, the network's bureau chief for the Americas said.
Will Stebbins, who oversees operations on three continents - North and South America and Antarctica - from offices in Washington, D.C., told a crowd of Kansas University journalism students that since launching in November 2006, Al-Jazeera English has restored some of the dignity to the media in the United States.
"The creation of Al-Jazeera English is really a major milestone in journalism," KU journalism professor Malcolm Gibson said. "This is the first time there's been a non-Western voice in English-language journalism."
Gibson organized Stebbins' trip to KU for his international journalism class, as well as other classes at KU.
Stebbins said traditional media was failing to provide international coverage when it was needed most, and Al-Jazeera was endeavoring to fill that niche, as well as to tell the stories of populations that have been marginalized.
"This is a critical moment for U.S. citizens to be informed about the effect of U.S. policy overseas," he said.
Al-Jazeera English is an offshoot of the Arabic language network of the same name that has provided deep coverage of the Middle East and the world, especially the civilian impact of the U.S. wars in Iraq and Afghanistan. Stebbins said the English-language network was trying to use the spirit its parent network has developed to deliver news to the 1 billion English speakers globally.
"What Al-Jazeera did was establish the first platform for the free exchange of ideas in the Middle East," Stebbins said. "Al-Jazeera has challenged the monopoly Western journalists had in writing the first draft of history."
The network broadcasts from its headquarters in Doha, Qatar, and bureaus in London, Washington, D.C., and Kuala Lumpur, Malaysia. As one of its goals, Stebbins said, the English-speaking network tries to represent the complexity of the United States to the rest of the world, while also bringing an understanding of the rest of the world to the United States.
That second message, however, is hampered by the network's near-total absence from local cable systems. Only Buckeye Cable in Ohio and the municipal cable system in Burlington, Vt., carry the network, though Stebbins said 80 percent of the 500,000 weekly hits on the network's English-language Web site come from North America.
Copyright 2018 The Lawrence Journal-World. All rights reserved. This material may not be published, broadcast, rewritten or redistributed. We strive to uphold our values for every story published.