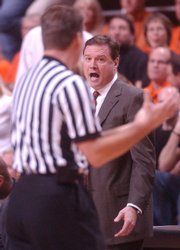 Self in Oklahoma
Bill Self's Kansas basketball teams are 5-3 in his home state of Oklahoma entering Saturday's 3 p.m. showdown at Oklahoma State. A game-by-game flashback:
2003-04
L - at Oklahoma State, 80-60
2004-05
L - Bucknell, 64-63, in Oklahoma City
L - at Oklahoma, 71-63
2005-06
W - at Oklahoma State, 64-49
2006-07
W - at Oklahoma, 75-67
W - Oklahoma, 64-47; Kansas State, 67-61; Texas, 88-84, OT in Oklahoma City.
Some orange-clad fans waved at Bill Self from the stands.
Others actually approached Kansas University's basketball bench to shake hands with the Jayhawks' first-year coach prior to opening tip of the KU-Oklahoma State game on Feb. 9, 2004, in Gallagher-Iba Arena in Stillwater, Okla.
It seems everybody - before and after the game - wanted a piece of Self, a popular former Cowboy player and assistant coach, who grew up down the road in Edmond.
"The first time I went there, I did a pitiful job," said Self, whose Jayhawks suffered an 80-60 defeat at his alma mater. It's the third-worst defeat in Self's five-year KU career - lagging behind losses at Villanova (21 points) and Texas (25).
"I put myself in position to see a lot of people, wanting to see a lot of people and that kind of stuff. The last time I went down there, it was a real tight circle. We just coached the game and visited afterward. It is not a social trip for us by any means."
Not one to make the same mistake twice, a focused Self directed his Jayhawks to a 64-49 victory during his return trip to Gallagher-Iba during the 2005-06 season.
He's 1-1 as KU coach in Stillwater entering Saturday's 3 p.m. tip against the Cowboys (13-12, 4-7).
"It is a special game for me personally. I spent basically almost 11 consecutive years there with one brief stint here," said Self. He played at OSU from 1982 to '85, and after working at KU during the 1986 Final Four season, returned to Stillwater to work as an assistant coach from 1987-93.
"It's a special place. People there are awesome. They have always treated me well," Self added. "Is there a comfort zone? Absolutely not, because I would much rather coach and be at a place where I know nobody than where I know a lot of people, because you need to focus and do the job as opposed to making sure you are friendly with everybody."
Overall, Self's KU teams have won five straight games in his home state after dropping three to begin his KU career.
The Jayhawks won four games in Oklahoma last year - at Oklahoma (75-67) and in the Big 12 tournament over Oklahoma (64-47), Kansas State (67-61) and Texas (88-84) at Oklahoma City's Ford Center. Prior to the victory at OSU in '05-06, KU lost in '04-05 to Bucknell (64-63) in Oklahoma City and Oklahoma (71-63) in Norman.
"My folks will tell me don't pay any attention to them," he said of his mom and dad, who attend some games at Allen Fieldhouse and all games in Oklahoma, where they reside.
"He (dad) says, 'You've got work to do.' It's friends (that cause the potential distractions). Everybody is great. Everybody is nice, (but) you are better off bunkering down in a tape room as opposed to making yourself available because there are so many nice people there. I know so many people there I would get distracted if I allowed myself to do that."
¢
Longhorns looking good: Self is mighty impressed with Texas, a team that is now tied with KU at 9-2 atop the Big 12 standings following Monday's 77-50 rout of Texas A&M; in Austin. Kansas State is just a half game behind at 8-2.
"Texas has had different guys step up at different times. (Connor) Atchley was huge against us. (Damion) James was huge against us. (A.J.) Abrams is the most dangerous shooter in the league. D.J. (Augustin) runs the game better than anybody in our league. They have a lot of nice pieces," Self said.
"When D.J. is not making shots, they've been great on the offensive boards or other guys have stepped up. (Justin) Mason has played huge in this stretch (six straight victories including 72-69 over KU). They've become a balanced team. They are more dangerous from all spots and, I think, better defensively this year. They were good defensively last year."
Self is not down on A&M; despite the fact the Aggies are now 6-5 in the league after a 14-1 start.
"I've not really studied them yet. I've watched from afar. From my perspective I still think they are one of the very best teams around," Self said. "They have great perimeter quickness, can play through two bigs (Joseph Jones, DeAndre Jordan). They are a very traditional team with the number of big guys they can throw at you - four of them. They have great personnel and are well coached."
¢
Honors: Oklahoma State junior guard Byron Eaton on Monday was tapped Big 12 player of the week for the first time in his career. The 5-11, 215-pounder averaged 21.0 points to lead OSU to victories over Baylor (93-83) and Texas A&M; (59-54). Kansas State's Michael Beasley was named rookie of the week. He captured a weekly conference award for the eighth time (two player of week, six rookie of week).
¢
Grateful ex-Jayhawk: Former KU basketball player Brian Martin (1982-84) of Wichita phoned Bill Self's Hawk Talk radio show on Monday to thank the coach for holding a 110 years of basketball reunion.
"I just wanted to say what a great time I had and thank you personally for putting it all together. It was a great time," Martin said.
All former players were introduced at halftime of Saturday's KU-Colorado game and attended a banquet on Saturday night at Crown Automotive.
"I hadn't seen some of the guys in 10 to 15 years," Martin added in his call to Self. "I hadn't seen Paul Mokeski or Darnell Valentine in a while. I played for coach (Larry) Brown my senior year. I don't know when I last saw him. It was so great to be in that room and catch up a bit."
Copyright 2018 The Lawrence Journal-World. All rights reserved. This material may not be published, broadcast, rewritten or redistributed. We strive to uphold our values for every story published.