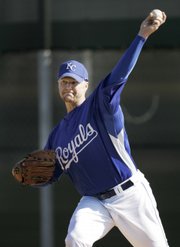 Surprise, Ariz. — After appearing in 26 games for Kansas City last season as a reliever, John Bale has lost 20 pounds and is contending for a slot in the Royals rotation.
Bale, a 33-year-old left-hander, started nine games in 2003 with the Cincinnati Reds, 82 games in the minors and 30 games, including 25 in 2004, in three seasons with Hiroshima in the Japan League.
"I'm definitely happy about being given an opportunity to start," Bale said Sunday. "I know they'll make the best decision at the end of spring, whether they think I'll be best for the pen or in the rotation."
Bale was 1-1 with a 4.05 ERA in 40 innings last season, striking out 42 and walking 17. He struck out seven New York Yankees, a season high for a Royal reliever, in 3 2-3 innings on Sept. 9.
"It all comes down to where I can help the ball club the best in their eyes," Bale said. "The bottom line is that it comes down that I just want the ball. I want to contribute any way I can. I'm going to do my best to take this opportunity and run with it."
Bale began last season on the disabled list with a strained ligament in his left shoulder, and while rehabbing in the minors he hurt himself again. He did not make his Kansas City debut until July 6.
New Royals manager Trey Hillman, who managed the past five seasons in Japan, became acquainted with Bale when he pitched for the Hiroshima Toyo Carp.
"He certainly looks a lot better and in better shape," Hillman said. "I didn't see him last year, but was comparing to what I saw of him in Japan two years ago. He's got the mind-set about the potential of being in the starting rotation. He's conditioned his mind and his body with that in mind for the season."
As a reliever, Bale mainly threw fastballs.
"You're going to mix in a lot more off-speed pitches as a starter," Bale said. "All my pitches feel good right now. I'm even going to keep sidearm on occasion to give a different look. The more angles you have, the better it is, make the hitter think he's facing two pitchers instead of one."
Notes: RHP Brian Bannister returned to camp after missing the previous three days with the flu. "The stomach cramps were killing me," Bannister said. "That's as sick as I ever felt." Bannister was restricted to throwing off a flat surface on his first day back. ... While the first official full-squad workout is not until Tuesday, all but seven of the 63 players already have reported to camp. Those not yet in camp are OF Jose Guillen, 2B Mark Grudzielanek, SS Tony Pena Jr., 1B Mike Stodolka and IFs Albert Callaspo, Jason Smith and Mario Lisson.
Copyright 2017 The Associated Press. All rights reserved. This material may not be published, broadcast, rewritten or redistributed. We strive to uphold our values for every story published.