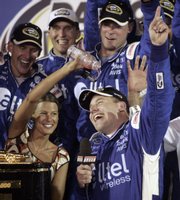 Daytona Beach, Fla. — Ryan Newman snapped an 81-race winless streak Sunday, using a huge push from teammate Kurt Busch to give car owner Roger Penske his first Daytona 500 victory.
Penske, the most successful owner in open-wheel history with 14 wins in the prestigious Indianapolis 500, now has a victory in NASCAR's showcase event.
It only took him 23 years to get it.
It came in the historic 50th running of The Great American Race, and it came in thrilling fashion.
"We did something very special for the Captain tonight," Busch, the runner-up, said.
The Penske cars were quiet for 199 of the 200 laps, letting Joe Gibbs Racing stars Tony Stewart and Kyle Busch race each other in a battle of Toyotas. With one lap to go, it appeared Stewart finally would get a Daytona 500 win in his 10th try.
Running out front in the high line, he held off the two Penske cars as they circled the famed speedway. But as the Penske teammates closed in on him, Stewart didn't feel safe running out alone with no allies.
At the last second, he dropped low on the track to line up in front of Kyle Busch.
The JGR teams had talked all week about the importance of teamwork, and Stewart thought he'd need Busch to make it to the checkered flag.
But the decision backfired in the blink of an eye.
Stewart couldn't hook up with Kyle Busch fast enough, and the two Penske cars steamrolled past him on the top.
Newman pulled away for his first win since New Hampshire in September 2005, while Stewart had to settle for third.
The failure was a setback for Toyota, which seemed destined to win its first points race in NASCAR's top series behind the strength of JGR.
The Gibbs organization joined Toyota this season, giving the manufacturer instant credibility after an embarrassing 2007 debut. Based on a strong month of testing and Denny Hamlin's win in one of Thursday's qualifying races, the JGR cars set the stage for an intense battle with powerful Hendrick Motorsports for the biggest prize in NASCAR.
But the Hendrick cars never really challenged. Jeff Gordon dropped out with mechanical problems, Casey Mears and Jimmie Johnson both wrecked and, without any Hendrick help, newcomer Dale Earnhardt Jr. didn't have the muscle to hold off the Gibbs entries.
It allowed Stewart and Kyle Busch to dominate the race, only to fade at the end.
Copyright 2018 The Lawrence Journal-World. All rights reserved. This material may not be published, broadcast, rewritten or redistributed. We strive to uphold our values for every story published.