Photo Gallery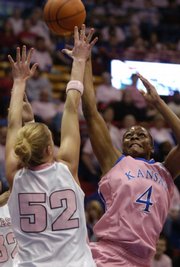 KU vs. Nebraska women's basketball
Kansas University's Danielle McCray thought she might be tooted for a turnover after crumbling to the floor in the lane.
"I was scared at first it was an offensive foul," McCray said.
Nebraska's Kelsey Griffin was thinking offensive foul, too.
"I tried to take a charge," Griffin said, "but I guess I was a little late."
Griffin was indeed ruled a late arrival so, with a mere :01.4 on the clock, McCray made the first of two free throws to give the Jayhawks a 62-61 victory in front of a season-high 6,122 fans Sunday afternoon in Allen Fieldhouse.
McCray, an 80-percent-plus free throw shooter, may have made the second one, too, but that wasn't the plan. Coach Bonnie Henrickson instructed the 5-foot-11 junior to miss in order to make the clock run out.
How did she make the second charity fall off the rim?
"I kind of snapped my hand instead of following through," McCray said with a smile.
That Kansas would win with a free throw was a bit of poetic justice because Nebraska clearly lost this one at the free-throw line. The Cornhuskers went to the foul line 34 times, yet cashed only half of them - a far cry from the first KU-NU game in Lincoln, Neb., when the Huskers drilled a torrid 30-of-32.
"Obviously, that was a big turnaround," NU coach Connie Yori said. "Free-throw shooting is the funniest thing in coaching. You just don't always understand it. Why do you make them on this day, and not on this day?"
With about six minutes remaining, the Jayhawks seemed to be sitting pretty in pink - they donned pink togs to raise awareness of breast cancer - with a nine-point 52-43 lead. But then the Huskers went on a sizz, racing to a 57-54 advantage with 2:47 left.
The Jayhawks did not fold, however.
"Our aggressiveness, our confidence, poise and composure down the stretch was just huge," Henrickson said.
Notably, Taylor McIntosh drained a pair of free throws at 1:57. Then, about a minute later, the 5-11 senior nailed a critical stick-back following a missed Sade Morris free throw.
"That's what a senior can do for you," Henrickson said. "They give you a chance to win."
McIntosh, the only KU senior who played Sunday, scored 11 points, the first time she has reached double figures in the last nine games.
"Welcome back, Taylor," Henrickson said. "It was great to see her step up."
McIntosh was one of four Jayhawks to score in double figures. McCray finished with 13, while LaChelda Jacobs and Nicollette Smith had 10 apiece.
Absent from that list was Krysten Boogaard, who had reached double figures in the previous three games. Boogaard, double-teamed all day, finished with seven points.
"I thought we did a good job on Boogaard," Yori said, "but they had some other people step up. Kansas is better than the first time we played them, but we knew that."
Six weeks ago, Nebraska (17-8 overall, 6-5 Big 12) rolled to a 71-51 triumph in the Devaney Center.
The Jayhawks (15-9 overall, 4-7 Big 12) notched their third victory in their last four games. All three have been at home, and now they have to go to Texas Tech on Wednesday and to Missouri next Sunday.
Notes: All nine Jayhawks who played scored at least two points. : KU overcame 22 turnovers and 22 fouls. : McIntosh didn't miss a shot (3-for-3 from the field, 5-foot-5 from the line). : KU snapped a five-game losing streak against Nebraska. : Jacobs had a career-high six assists.
Copyright 2018 The Lawrence Journal-World. All rights reserved. This material may not be published, broadcast, rewritten or redistributed. We strive to uphold our values for every story published.