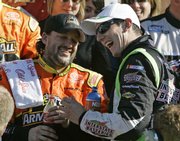 Daytona Beach, Fla. — Mimicking Hendrick Motorsports' strategy, Tony Stewart and Joe Gibbs Racing teammate Kyle Busch finished 1-2 Saturday in the season-opening Nationwide Series race at Daytona International Speedway.
Today's Daytona 500 is sure to feature even more teamwork.
"We worked with each other the whole race. That's something that, you know, we've learned that from the Hendrick guys," Stewart said. "And it just shows if you get two of these guys to work with each other, Kyle and I can. I think Kyle and I could have stayed up front all day no matter how many guys challenged."
Next up: the 500, expected to be a showdown between the powerful Hendrick Chevrolets and Gibbs Racing, which switched from the GM brand to Toyotas over the winter. Toyota took the top two spots in the Nationwide race, a day after getting the top four spots in the truck race.
Today, it will be Stewart, Busch and Denny Hamlin against Hendrick's all-star cast of Dale Earnhardt Jr., two-time defending Cup champion Jimmie Johnson, four-time Cup champion Jeff Gordon and Casey Mears.
Earnhardt, Johnson and Gordon are all former Daytona 500 winners. Gibbs' drivers still are looking for that first win in NASCAR's biggest event.
They put on a good show Saturday. Between them, Stewart and Busch led 93 of the 120 laps.
The field got strung out early in the race, but the last 20 laps were a wild, two- and three-wide melee that included a nine-car crash on lap 111 that took out Cup stars Kasey Kahne and Kevin Harvick.
Busch moved back to second on lap 119, with a push from Martin Truex Jr., and Stewart, with his flank well protected, raced on to a three-car-length victory.
Copyright 2018 The Lawrence Journal-World. All rights reserved. This material may not be published, broadcast, rewritten or redistributed. We strive to uphold our values for every story published.