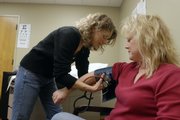 Mandy del Valle, a nurse practitioner, sees more than two dozen people a week in an exam room in southeastern Lawrence, where she needn't bother with a waiting room.
Her patients simply walk in off the work floor.
"They don't even need to clock out," said del Valle, who contracts to provide health care at Amarr Garage Doors, in East Hills Business Park. "They seem to really like it, too."
Moreover, it doesn't cost them a cent.
Amarr officials like the arrangement so much that they're helping tout the program to other area employers, many of whom are looking for ways to improve employee health, increase company efficiency and - not least of all - ease financial pains for employer and employees alike.
Now entering its fifth year at Amarr in Lawrence, the program ranks among the most popular benefits for employees, and most economical and high-payoff programs for the company, said Kirsten Krug, who works in the Lawrence plant and oversees human resources for North Carolina-based Amarr.
Employees can get immediate treatment for colds, flu or other acute situations, and even undergo minor surgeries, such as removing a mole, Krug said. Employees with chronic conditions - such as hypertension or diabetes - also can get on-site counseling and convenient care.
Lab samples can be drawn or collected on-site, Krug said, and the typical appointment lasts all of about 20 minutes, which beats the alternative of excusing an employee to leave work for a doctor's appointment and cut into the efficiency of Amarr's 24-hour-a-day door-making operations.
"And it saves our team members money," said Krug, the plant's director of people. "And, ultimately, it does save Amarr money. For every dollar that we invest, we're seeing a return of about $3 in the clinic. So it's just an awesome benefit."
Healthy market
Operating the clinic for Amarr is HealthStat, a Charlotte, N.C.-based company that runs 280 clinics for more than 80 employers in 23 states. In all, more than 115,000 employees are eligible for care and health advice at work through the company's operations.
The pitch: Offer up a room with at least 80 square feet of space, a locking door and near running water and restrooms, and HealthStat will do the rest.
"All industries are being impacted by rising health care costs," said Tami Damiani, vice president for new business development at HealthStat. "We have companies that have a thousand, couple thousand people under one roof, but we also have companies that have 150 people under one roof. :
"It is an operation that is scalable."
Among companies HealthStat already provides care for:
¢ Blue Cross Blue Shield of North Carolina.
¢ Alan Mills Portrait Studios.
¢ La-Z-Boy.
¢ Nova Biomedical.
Convenient approach
A major player in the industry is Whole Health Management, a Cleveland-based operation that provides health operations - including full-time primary care centers - for 27 major employers, among 69 unique sites and more than 300,000 covered lives.
Whole Health, a private company that posted revenue growth of 26 percent last year, recently completed a client survey to gauge results from operations. Among the findings:
¢ Nearly two-thirds of a company's health care costs are indirect costs, in terms of lost work time, reduced productivity and employee turnover.
¢ Participants in Whole Health's weight-management programs - considered a key in addressing a major health risk factor - lose an average of 10 percent of their weight, compared with a national average of 3 percent.
¢ Company costs for outpatient claims are reduced because many services are provided on-site.
In all, Whole Health clients see a return on investment of $2.47 for its clients - equating to millions of dollars in savings for the 24 major clients surveyed, a group that included Scotts Miracle Gro, Harrah's Entertainment and Sprint Nextel, based once again in Overland Park.
One key to having a clinic on site, said Dr. Allan Khoury, Whole Health's chief medical officer: Workers are more likely to actually seek out care and follow their health care professional's guidance because the assistance is so relatively inexpensive, accessible and otherwise convenient.
"I think we're providing a great service," Khoury said. "We're helping American business remain competitive by helping them reduce their health care costs. And we're helping employees - we're giving them their health."
Krug, at Amarr, is confident that the HealthStat clinic in Lawrence is doing more than improving employee health and boosting Amarr's own bottom line. It's also helping keep talented employees.
"In today's world of a tight labor market, you want to be able to have things that are attractive for the team members that go above and beyond what the other employers in the community are offering," Krug said. "That's what we have."
Copyright 2018 The Lawrence Journal-World. All rights reserved. This material may not be published, broadcast, rewritten or redistributed. We strive to uphold our values for every story published.