Photo Gallery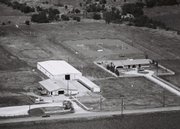 A New View
They are a snapshot in time of Douglas County.
More accurately, about 2,016 snapshots.
They were uncovered in Toledo, Ohio, where a crew was remodeling a storage area for State Aerial Farm Statistics, an aerial photography firm headquartered there. Workers found thousands of images of Douglas County (among other locales) that were taken in the mid-1970s.
The photos, taken by aerial photographers criss-crossing county roads, show plenty of Douglas County farms. Marketing representatives would take those photos and knock on the doors of the farmers, hoping to sell them framed versions of their homesteads.
But also found in the collection are dozens of photos showing the outskirts of Lawrence at the time. What were then areas with gravel roads with an occasional building now are thriving commercial and residential areas considered the heart of the city.
It's a reminder that, even just 30 years ago, Lawrence was nothing like it is today. Though the company, at the time, was trying to make money off the photos, they offer some insight into development issues today.
"That's true with so many things, that people don't necessarily think about the research value at the time," says Sheryl Williams, interim director of the Spencer Research Library at Kansas University. "When people kept diaries, they weren't thinking of their posterity from a research perspective. They were trying to document and write for themselves."
Local connection
When David Rodwell heard that a forgotten group of photos from his company, taken in the Midwest, had been discovered, he immediately asked if Lawrence was included.
Rodwell, who now lives in North Carolina, is national training director for State Aerial Farm Statistics. He lived in Lawrence from 1973 until the mid-1980s, earning two degrees from Kansas University, working as an agent for Stephens Real Estate and serving on the Board of Zoning Appeals.
He got ahold of 58, 36-exposure rolls of film that contained the portions of Douglas County that weren't in the city limits of Lawrence at the time.
It's been a nostalgic trip for Rodwell the past few weeks.
"There's just so many of them to go through," he says. "It's great - it would be wonderful if it were of the town itself."
Still, there are pieces that give insight into present-day Lawrence.
For instance:
¢ A photo of the drag strip that sat along present-day Wakarusa Drive, the reason why that road was initially called Drag Strip Road.
¢ A picture of the present-day Bishop Seabury Academy on Clinton Parkway, which at the time was a tennis center with sewer lagoons in the back - which, along with the dirt road in front, was a sign that city services had yet to reach that far west.
¢ A photo of farms that show Clinton Lake being dug in the background.
"This is just like wedding pictures or baby pictures and those sort of things," Rodwell says. "By and large, what we do is capture that moment in time. It's preserved for your and your family's history. Everybody justifies it with a logical reason: insurance, tax purposes. But it's really pride of ownership, for what they did, who they were, what they stood for at the time."
'Great value'
But those who use aerial photography as a research tool say there is more than sentimental value to these sorts of pictures.
"They're important," says the Spencer Library's Williams. "As with all photographic documentation, they're showing changes over time, and development."
In the case of these photos, areas now covered by houses and paved roads are lined with hay bales. Plowed ground sits where retailers now hawk goods.
Karl Gridley, a Lawrence historian, says the tradition of bird's-eye views of towns goes back to the 1870s, when illustrators drew versions of cities, both to boost local pride and to attract new residents.
In the case of photos from the 1970s, he says, it's more a reminder that street names such as Nieder Road, located near 31st and Iowa streets, was named for a man who farmed the land back in the day.
"I think stuff that, to us, seems very familiar and not of any historical value, might someday have great value," Gridley says. "You could do the same pictures today, just farther out (from the 1970s city limits)."
Scott McEathron, map librarian at KU's Anschutz Library, says aerial photographs can provide the basis for a variety of research projects. They can help geologists understand flooding trends of rivers and streams, help biologists understand vegetation trends and provide social scientists an idea of buildings of the time from a cultural perspective.
But photos that lead to those determinations generally are taken from a higher vantage point than those of the more current discovery. Photos such as those owned by Douglas County (and can be accessed at www.lib.ku.edu/mapscoll/web/airindex.shtml) tend to be used more by the research community.
"A picture," he says, "still documents the way things were at that point in time."
Showing a legacy
Rodwell is hoping Douglas County residents take a liking to his company's newly found photos - both from a business perspective and a personal perspective.
He remembers a time when Lawrence was fighting over whether to allow a mall to be built on the outskirts of town. He thinks the city made the right decision to deny the mall to protect downtown.
But, ultimately, he thinks the photos are about people who were proud of owning a plot of land and a house.
"It's the same idea as whatever your wedding photos mean to you," he says. "It's the same as what the wheat farmer feels about his place in the sun. It's a legacy - the little something he leaves behind."
Copyright 2018 The Lawrence Journal-World. All rights reserved. This material may not be published, broadcast, rewritten or redistributed. We strive to uphold our values for every story published.