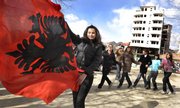 Pristina, Serbia — Tiny Kosovo - poor, mostly Muslim but feverishly pro-Western - braced itself Saturday for a historic declaration of independence from Serbia, a decade after a war that killed 10,000 people and years of limbo under U.N. rule.
The province's bold bid for statehood, expected today, and its quest for international recognition set up an ominous showdown with Serbia and Russia. Moscow contends the move will set a dangerous precedent for secessionist groups worldwide.
Revelers took to the streets in giddy anticipation. Prime Minister Hashim Thaci - a former leader of the guerrilla Kosovo Liberation Army - marked the eve of the new nation's birth by visiting a village where Serbian troops massacred ethnic Albanians in 1998.
"Tomorrow is a historic day in our effort to create a state," Thaci said in Prekaze, about 25 miles southeast of the capital, Pristina.
Thaci, a former leader of the now-disbanded Kosovo Liberation Army, was expected to call a special session of parliament this afternoon to declare an independent Republic of Kosovo and unveil a new flag and national crest.
In a televised address later Saturday, Thaci said "everything is a done deal."
"We are getting our independence," he said. "The world's map is changing."
In the provincial capital Pristina, the icing was on celebratory cakes and bottles of "Independence" wine chilled as the new reality sank in.
"Independence is a dream for all the people of Kosovo, and I am very happy, like everybody," said Lumturije Bytyqi, 20.
But Kosovo's small Serb population greeted the secession as though it were an amputation. Many vowed never to accept the loss of a region they consider the heart of their ancestral homeland.
"I'm asking all the Serbs to reject the monster state of Kosovo, and to do everything to prevent its birth," said Marko Jaksic, a Kosovo Serb hard-line leader.
The dancing and drum-beating that pulsed through Pristina - awash in red and black Albanian flags with the distinctive double-headed eagle - contrasted sharply with the gloom gripping the ethnically divided northern town of Kosovska Mitrovica, a Serb stronghold and a flashpoint for violence.
"We are Serbs and this will always be Serbia," said a defiant Djordje Maric, 18. "We are ready to defend our territories at all costs, including with our lives."
Although it is formally part of Serbia, Kosovo has been administered by the U.N. since 1999, when NATO airstrikes ended the late Yugoslav leader Slobodan Milosevic's brutal crackdown on ethnic Albanian separatists.
Ninety percent of Kosovo's 2 million people are ethnic Albanian - most moderate or non-practicing Muslims, the rest Roman Catholics - and they see no reason to stay joined to the rest of Christian Orthodox Serbia.
With Russia, a staunch Serbian ally, determined to block the bid, Kosovo looked to the U.S. and key European powers for swift recognition as the continent's newest nation. That recognition was likely to come Monday at a meeting of EU foreign ministers in Brussels, Belgium.
Copyright 2018 The Associated Press. All rights reserved. This material may not be published, broadcast, rewritten or redistributed. We strive to uphold our values for every story published.