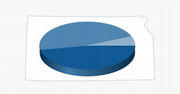 See comprehensive statewide and local results for the 2008 Democratic caucuses.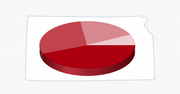 Members of the GOP in Kansas voted in caucuses today. Here are the results of voting, provided by the Kansas Republican Party.
A Democratic presidential candidate hasn't won Kansas since 1964 when voters picked Lyndon Johnson.
After the recent caucus turnouts, could the red state be leaning toward voting blue? Depends on whom you ask.
Kansas Democrats turned out 37,000 voters during caucuses Feb. 5, and U.S. Sen Barack Obama won the state. Four days later, a majority of 19,000 Republicans threw support away from GOP front-runner Sen. John McCain.
"This political season has played out like the college football season," said GOP strategist Jon McHenry, a partner with Ayres, McHenry and Associates in Alexandria, Va.
There it was. In one of the most wide-open presidential races in recent memory, a pundit compared the political climate to the unpredictable fall that included Kansas University - a program for decades mired in mediocrity - that went 12-1 and won an Orange Bowl championship.
Gauging from the caucuses
Although Democrats turned out in force, the state's Republican Party chairman, Kris Kobach, doesn't fear an upset. He believes the state's voting record speaks for itself.
"It would take nothing short of an electoral earthquake to put Kansas in the blue column," he said.
But Larry Gates, the Kansas Democratic Party chairman, said his party is benefiting from a strategy to compete in all 50 states.
"We've been working on this for two years, and secondly, I think the mood of the country is that people think we're not going in the right direction," he said.
Gates pointed out that Democrats turned out despite wintry weather while Republicans barely showed up on a sunny day.
But Kobach said the caucuses were different. The Democratic presidential race between Obama and Sen. Hillary Clinton was much closer and had received more national media attention. Kansas GOP leaders were pleased with their turnout in a race with McCain as the clear front-runner. He added that Democratic organizers allowed voters to change their party affiliation at the door unlike the GOP caucuses.
"You're comparing apples and oranges," he said.
Political science experts said a turnout disparity in the caucuses is probably not a good indicator of the general election.
"The type of voter that gets excited and goes to a caucus is probably a little more liberal on the Democratic side and a little more conservative on the Republican side," said Michael S. Lynch, a Kansas University assistant professor of political science.
If anything, Lynch said, McCain's loss to Mike Huckabee was a signal that he has not yet won broad-based conservative support based on some of his moderate positions. If that bloc of voters remains unhappy in Kansas, they could decide to stay home in the general election.
But he and others believe that scenario is unlikely.
"I think they're probably going to hold their noses and go vote anyhow," said Don Haider-Markel, a KU associate professor of political science.
Obama's support
One wild card in the race could be whether Obama defeats Clinton for the Democratic nomination. Obama has family ties to Kansas, the endorsement of two-term Democratic Gov. Kathleen Sebelius and about 73 percent of the votes in the party's caucuses.
"I think at least you have to say, 'You have to open your eyes to you never know,' because he might decide to campaign here because of his Kansas connection," said Bob Beatty, a Washburn University associate political science professor.
Joe Aistrup, head of Kansas State University's political science department, said Obama probably couldn't win Kansas, but he could do much better than 2004 nominee Sen. John Kerry. If he pulls in more votes, it could help Democratic candidates farther down the ticket, such as U.S. Rep. Nancy Boyda, who will face a Republican challenger in November.
But McHenry said because of limited resources, it's unlikely that Kansas and its six electoral votes would draw too much attention from Democratic candidates. Obama may campaign a little as a thank you to Sebelius, but he would spend most of his time elsewhere, such as Ohio or Florida, he said.
Republican struggles
Even with the Republican party's strong base in Kansas, McHenry acknowledged the political landscape is different compared with the 2004 election when George W. Bush won more than 60 percent of the vote here.
Challenges for Republicans include the negative view of the Iraq war, even if the recent surge strategy touted by McCain has shown some success. Also, the backlash against the government response to Hurricane Katrina and the 2006 congressional elections generally seem to hurt the GOP, he said.
But he thinks Republicans will support the party's candidate, likely McCain, as the general election campaign ramps up.
Gates, Democratic Party chairman, said if Kansas Democrats can persuade independents and moderates to vote with them, they might have a chance. He added that more moderate voters may think that electing McCain as president would be like a third term for Bush.
As of Feb. 1, Kansas had about 743,000 registered Republicans, compared with about 434,000 Democrats and 449,000 unaffiliated voters.
"I think this will be a very competitive race. Whether it's winnable on the Democratic side, we'll have a much better feel for that in the late summer or early fall," Gates said.
Copyright 2018 The Lawrence Journal-World. All rights reserved. This material may not be published, broadcast, rewritten or redistributed. We strive to uphold our values for every story published.