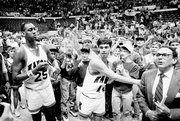 Photo Gallery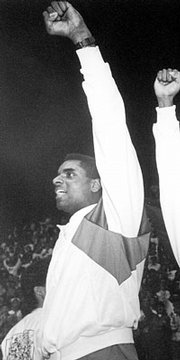 NCAA Championship 20th Anniversary
Rarely did Larry Brown's barking fall on deaf ears.
The Kansas University basketball coach in 1988 had demanded respect from his players through what guard Jeff Gueldner called "intimidation and fear."
"He was a little guy," Gueldner said, "but he was godlike in that way."
But this one time, just before tipoff of the 1988 NCAA championship game between Kansas and Oklahoma, the players went their own way.
Brown wanted his team to slow the tempo. Don't run with Oklahoma because you can't. Play at your pace, not theirs.
Once Brown left the huddle, the KU players made their own decision to fly with the Sooners. Beat them at their own game. Captivate a national audience.
What followed was an amazing 20 minutes of basketball at Kemper Arena in Kansas City, Mo., one that left the score tied at 50 going into halftime.
Kansas went on to win, 83-79, to capture its last national championship 20 years ago.
"Sometimes," Brown said after the game, "the kids are selective in what they hear."
But it wasn't for a lack of respect. Brown, now 67, has cemented a legacy as one of basketball's greatest coaching minds, and several members of the 1988 Jayhawks gushed about their leader 20 years later.
"He was definitely one of the best coaches I've ever played for, if not the best," Archie Marshall says. "I can't say enough good things about the man."
Several players respected how he'd tear their game to pieces and build a new one, designed to win his way. They might not have at the time, but the players now appreciate how demanding Brown was of them.
And of course, Brown's ability in drawing up plays is something that has lingered with his players for two decades now.
"He sees the game through different lenses," Mike Maddox says, "and he has that ability to break it down and create opportunities for his teams to be successful."
Added Scooter Barry: "The best game coach that I've seen. He could draw up a play in an entirely new situation, and you knew it would work if you just did what you're told to do."
Of course, Brown's nomadic ways ultimately gave many of the '88 players a comparison. Just days after the championship was won, Brown was in Los Angeles mulling a UCLA offer. He eventually declined, but left Kansas anyway a few months later for the NBA's San Antonio Spurs.
Roy Williams replaced Brown and since has had a highly successful career himself, including 15 years at Kansas highlighted by four Final Fours.
Gueldner, for one, constantly is asked to compare the two. He played two years under each coach, but declines to say who's better because "it's like comparing apples and oranges."
Others, like Marshall, were seniors in 1988 who didn't play any more basketball. Brown was the only high-level coach Marshall knew.
And the only one he admired.
"He challenged you," Marshall said. "He wanted you to compete on a daily basis, work hard. He challenged that every day, and he didn't expect anything less.
"Most importantly, he was just a great coach and a good person. He was tough, but at the end of the day he cared for his players. It's real easy to play for someone who cares for you and who wants nothing but to see you do well."
Copyright 2018 The Lawrence Journal-World. All rights reserved. This material may not be published, broadcast, rewritten or redistributed. We strive to uphold our values for every story published.