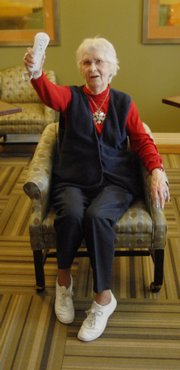 With all the clapping and commotion coming from the Big 12 Pub at Brandon Woods Retirement Community, it could've been mistaken for a bowling alley.
But instead of a lane and bowling balls, there was a Nintendo Wii and flat-screen television. And the bowlers could choose between throwing strikes while standing or sitting.
Brandon Woods has introduced the Nintendo Wii game system as a new activity for residents.
"We see a lot of therapeutic benefit to it as well as the very obvious social, sports-related benefit," said Donna Bell, director of public relations at Brandon Woods. "When you're bowling or playing tennis, there's a whole range-of-motion benefit."
Skills before strikes
Before anyone took to the lanes last week at Brandon Woods, Kim Blocher, social programming director, gave the small group of men and women a tutorial on the controller and game.
Some had been exposed to the Nintendo game system through grandchildren. Others hadn't even heard of it.
Resident Evelyn Hallberg said she had played tennis on the Wii once during a family gathering. But she didn't consider herself an expert.
"I don't learn things like that easily," Hallberg said.
Blocher went through the game step by step, showing them how to position the bowler, how to angle the ball's path and even how to put a little curve on it.
"Whatever your hand does, you're doing to the ball," Blocher said. "If you turn it a lot like this, like I did, it's going to curve powerfully. If you roll straight, it'll go straight."
For some bowlers, there was frustration at first.
"Hell's bells" was resident Natalie Gump's reaction when she hit the wrong button and couldn't figure out how to get back to the main screen.
But after a few throws, everyone in the group seemed to get the hang of it and began making spares and strikes.
"After a while, it starts to get simple," said Gump, who didn't know what a Wii was before the tutorial.
Bowling benefits
Senior center directors and researchers see a lot of potential with the Wii. The obvious benefit is increased physical activity.
Susan Kemper, a distinguished professor of psychology at Kansas University, says the competition that comes with playing the Wii is a great motivator. Kemper, who has an emphasis in aging and cognition, works with the Gerontology Center at KU.
"It's not just you playing against a clock or a computer scoring system. It's not just you keeping track," Kemper said. "It's a real sense of competition. That's why it seems to be very rapidly adopted in a lot of assisted living senior centers because it gets people active."
The competition also lends itself to more social interaction.
"If it gets older persons up and moving and doing something enjoyable that they can share with their friends and younger family members, then that's definitely beneficial," said Matthew Schrager, an assistant professor in health, sport and exercise science at KU. He also works with the Gerontology Center.
Douglas County Senior Services also recently acquired a couple of Wiis. Although training doesn't even begin until next week, the system already seems to be popular.
Executive director John Glassman said golf and bowling have been the most sought after games.
"I've got these people up here talking to me already. 'Which golf game did you get? Did you get the Tiger Woods game?'" Glassman said.
Memory lanes
For some seniors, the Wii has brought back fond memories.
Gump, at Brandon Woods, had been an avid bowler until a leg injury. Until the Wii tutorial, she hadn't bowled in probably 15 years, she said. After bowling for a few frames, she said it made her want to return to the lanes.
But she wasn't so sure her bowling experience was going to translate into endless strikes on the Wii.
"Oh, I don't know about that," she said.
Copyright 2018 The Lawrence Journal-World. All rights reserved. This material may not be published, broadcast, rewritten or redistributed. We strive to uphold our values for every story published.